Tools that will save you on a long bike ride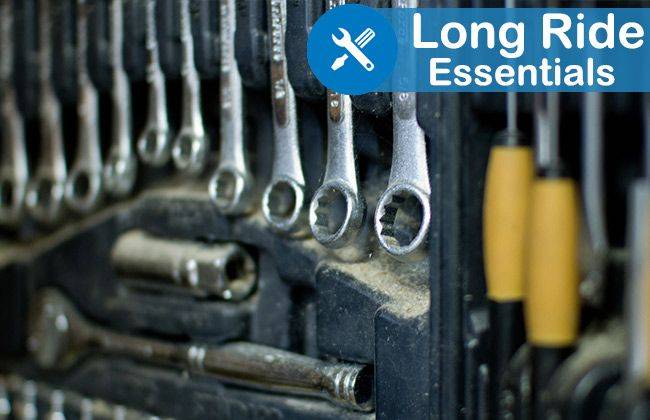 Imagine, you are finally the owner of your dream bike. What's the second thing on your wishlist, a long ride along the highway! The speedy wind, beauty of the countryside, and the thrill of riding your new bike - the joy is unparalleled! But what if you suddenly face an issue with the bike and find no repair shop?
Yes, problems can occur with both new and old bikes and bikers may need to fix it all by themselves. The following tools will save you in such a situation:
Locking Plier
It may come in handy if you need to remove the nuts and bolts. You can use it just like a normal wrench. Now, another use of such a plier which is unknown to most of us is that it can hold different automobile parts together in case we need to fasten them using a tape. So, don't forget it while packing!
Allen key and Torx bits
Allen or Torx type of bolts and screws are used by most bike manufacturers these days. They cannot be unfastened using a regular wrench or screwdriver. That is where Allen Key and Torx Bits come to your rescue and it is, therefore, wise to carry them on a long bike ride.
Electrical Tape
Wiring issues are common to observe in a bike and electrical tape can be of great help in fixing them. Moreover, it will also prove to be helpful for fixing other broken parts such as lights, panels, turn indicators, and levers. It can work as a great temporary solution in cases.
Multi-bit screwdriver
It can be used irrespective of the type and size of the screw- plus, minus or Torx. It is important to carry this tool when you are on long rides considering its versatility. You can even use it as an extender for Allen screws, though we would advise you to take Allen keys for the purpose.
Puncture repair kit
Tyre puncture is a common problem in case of long rides and a repair kit proves to be of great help. It is likely that you will not get an automobile repair shop on long deserted routs. Fixing the issue by yourself will be the only option. So, carrying such a puncture repair kit is advisable. Today, most bikes come with tubeless tyres so remember to buy kits suitably. You will find tubeless tyre kits online or in any local shop easily.
Flashlight
No matter what all tools you carry and how efficient you are in using them, you will not be able to do a thing without proper light. Imagine you are riding after sunset with no lights around. Using your phone's flashlight will not be a good option because it is not that powerful and also engage one of your hands in holding it. You will definitely need a real flashlight to assist you to fix the issues. Make sure it can be tied around your head for convenience in work and carry extra batteries to be on the safer side.
Multi-tool
It is basically an array of different tools like plier, knife, corkscrew, screwdriver, bottle-opener, can-opener, wire-cutter, leather-punch, scissors, masseuse, saw, nail file and more. Now, you are somewhat right when you think that not all of these are required for fixing issues in your bike. But most of them are indispensable during long bike rides in some way or the other. For instance, if you are with a group of bikers looking forward to enjoy the trip and to have the drinks, you will need the can-opener or the bottle-opener.
So, these are some of the essential things to carry during a long bike ride, no matter whether you are alone or in a group. Each has its own use and is capable of saving you in some way or the other. Do not miss out on any of them and buy good-quality tools without compromising on your budget. Happy biking!
You might also be interested in
Latest Bikes Videos on Zigwheels