2020 Mercedes EQS spotted wearing camouflage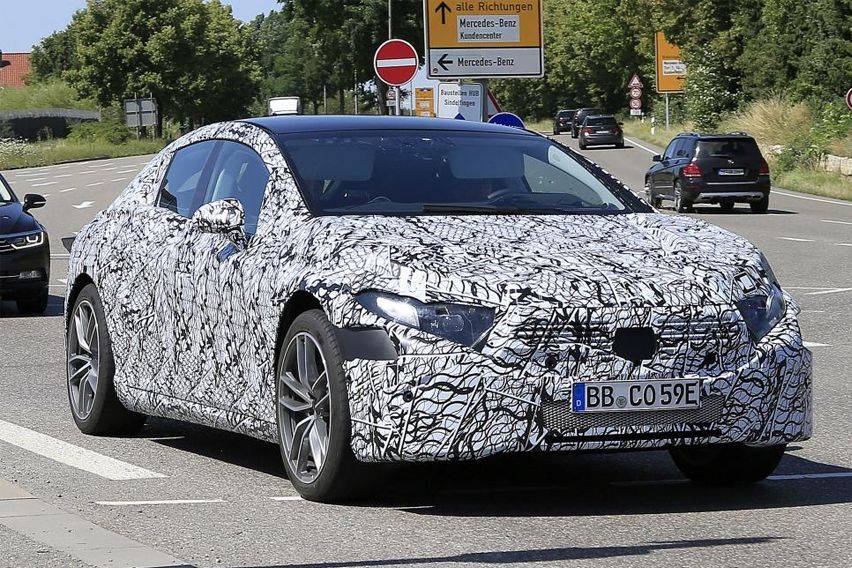 KUALA LUMPUR: Mercedes-Benz today has revealed the all-new 2021 S-Class to the world, and to be frank, we are not over that technically-advanced sedan. But complementing it, we have another exciting bit from Mercedes itself. A while back, spy shots of the EQS appeared on Motor1.com, and the EV, though fully wrapped in camouflage, revealed enough to satisfy our curiosity.
First, talking about its body shape. The latest spy shots confirm that the EQS will hail from the hatchback/liftback segment. One can see the tailgate outline meeting the glass roof, thus ensuring a big boot. However, the sloping roofline might affect the headroom.
At the front, we could make out some of the car's features like the small faux grille, headlight, and the company moniker that will dominate the entire look but without the circular boundary. Also, some exposed pieces of the EV give the impression of it pained in black.
The low roofline gives the EQS a sleek side profile, and it is also one of the factors contributing to its low greenhouse emission. Further, improving its aerodynamic efficiency is the nifty electronic pop-out door handles. The charging port is situated on the front fenders and is on the same level as the door handles.
Mercedes has confirmed that the EQS EV will offer over 700 km of range based on the WLTP rating. However, the EPA rating will most likely be lower, as the actual range depends on various factors like traffic, speed, etc.
The EQS will have some stiff competitors in the coming years. BMW has already announced an EV based in the 7-Series. Also, Jaguar is doing the same with the XJ, and we'll also like to remind Mercedes of the rumoured Model S and Audi A9 E-Tron.
Also Read: Mercedes teases its first lifestyle van
You might also be interested in
Latest Mercedes Benz Cars Videos on Zigwheels