2019 Harley-Davidson FXDR 114: First impression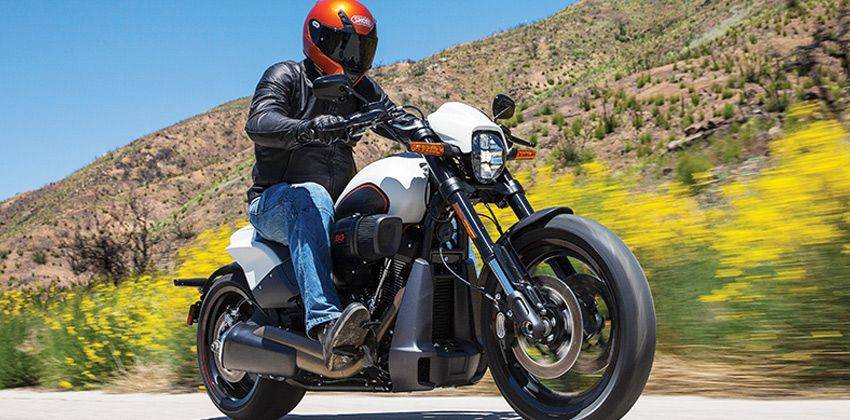 A legacy is like a twin edged sword. For a company like Harley-Davidson, it means that people have certain expectations from their motorcycles. It also means that it is very difficult to break away from that reputation. Sticking to their roots makes them outdated. Trying to make something new does not always get the reaction that they want. And yet Harley has now decided that it wants to become sportier. The newest user of its Softail platform, the 2019 Harley-Davidson FXDR 114, certainly seems to be a step in that direction.
Softail in Harley lingo refer to a hidden shock absorber that allows the bike to look like a hardtail without compromising on comfort. Replacing the Dyna, the FXDR puts a new spin on the Softail name by claiming to be a power cruiser. Think of the Yamaha Vmax or the Ducati Diavel and you will start to get the picture.
That picture, however, is very much like a standard Harley Davidson. But look closer and you will see that this bike is meant to deliver performance and handling – not something you'd associate with Harley Davidson. The "drag racer crossed with fighter jet" inspired design incorporates more cornering clearance – up to 32.6 degrees. The angled two into one exhaust is another sign. The ground clearance is low. The 34-degree rake and revised shorter trail results in more responsive handling. The short and high tail section harkens back to Harley's flat track racing bikes. The rider has a lean forward seating position and grabs on to clip-on handlebars.
Then there is the weight reduction- another term not generally associated with Harley Davidson. 4.62 kg is lost by using an aluminum swingarm instead of a steel one. The rear subframe uses welded aluminum tubing and a tail section made of composites to lose another 3.2 kg. The 19" front wheels also use a lightweight design that uses thinner spokes.
And yet, the bike still weighs a hefty 303 kg. Thankfully the FXDR 114 uses an 1868 cc (or 114 cubic inches) Milwaukee-Eight 114 4-valve V-twin motor with a new Screamin' Eagle inspired air intake and dual counterbalancers. The engine churns out a massive 161.3 Nm of torque at just 3500 rpm. As usual, Harley has not provided horsepower figures for the engine. If that isn't enough you can also go for Harley's Screamin' Eagle range of factory approved performance upgrades. The rear wheel is driven using a belt drive and a 6-speed transmission. That 18" rear wheel is fat. 240 section fat.
The suspension in the front uses an inverted 43 mm diameter front fork while the rear uses a monoshock. Four-piston calipers on dual 300 mm discs serve as brakes on the front while a two-piston caliper on a single floating disc serves in the rear. Harley has also provided ABS as standard on the FXDR 114.
Other details include a swooping 16.6 L fuel tank, all around LED lighting, bikini fairing and a 5.4 cm LCD display. Harley has also included modern niceties like a USB charging port, keyless ignition and HD Smart Security system. The bike comes with six color choices – Vivid Black, Black Denim, Industrial Gray Denim, Wicked Red Denim, Bonneville Salt Denim, and Rawhide Denim. All except the basic black will cost you extra.
Speaking of prices, the range starts from USD 21439 (RM 87964). By the time it makes it here, it should be much more expensive, however. This price also makes it the most expensive Softail model on sale today.
Harley-Davidson has promised to launch 100 new models by 2027 according to its 10-year growth initiative. With the newest of these launches, Harley seems to be taking a new direction with their motorcycles. The FXDR 114 is a prime example of that approach with a motorcycle that delivers performance and handling without compromising on styling and presence. In today's world when motorcycle riders are constantly shifting away from choppers, this approach might be just the thing needed. But as we said in the beginning, Harley's legacy might have something to say about that. Will Harley's existing riders like the FXDR? Will new riders buy the FXDR for its dynamics? Your guess is as good as mine.
Harley-Davidson Motorcycle Models
Harley-Davidson Breakout

Harley-Davidson Heritage Classic

Harley-Davidson Road King

Harley-Davidson Ultra Limited

Harley-Davidson CVO Road Glide

Harley-Davidson Iron 883

Harley-Davidson Street Bob

Harley-Davidson Electra Glide

Harley-Davidson Fat Bob

Harley-Davidson Road Glide

Harley-Davidson Nightster

Harley-Davidson CVO Street Glide

Harley-Davidson Sport Glide

Harley-Davidson Pan America 1250

Harley-Davidson Street Rod

Harley-Davidson Forty-Eight

Harley-Davidson Softtail Slim

Harley-Davidson Fat Boy

Harley-Davidson FXDR 114

Harley-Davidson Street Glide

Harley-Davidson 1200 Custom

Harley-Davidson Street 750

Harley-Davidson Deluxe

Harley-Davidson CVO Limited

Harley-Davidson Roadster

Harley-Davidson SuperLow

Harley-Davidson Low Rider

Harley-Davidson Sportster S
Harley-Davidson Motorcycles

2019 Harley-Davidson FXDR 114: First impression
Select your city to start search
Or select from popular cities