SYM VF3i and its three compititors - The moped fight you can not miss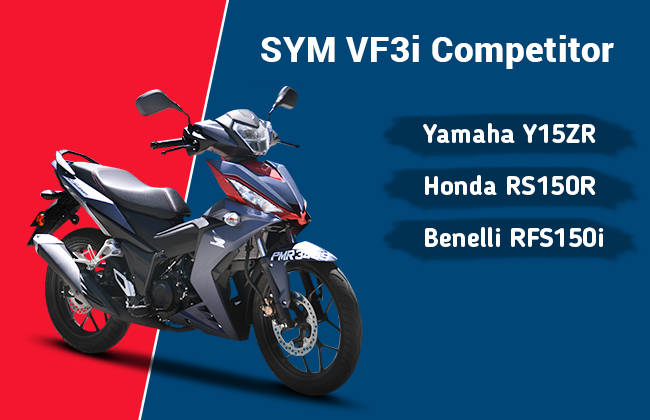 The all-new SYM VF3i was launched by Sym Malaysia and it is the world's largest capacity moped. It is powered by a single cylinder, four valve engine that produces a maximum power of 17.7hp and a peak torque of 15.3 Nm. SYM VFi3 is world's first 185cc moped and it caught the attention of a lot of Malaysians.
The bike clearly stands apart from its competition like the Yamaha Y15ZR, Honda RS150R, and Benelli RFS150i. The VFi3 is quite comfortable to ride due to its agility.
It can cover long distances without having to refuel all thanks to its 7-litre fuel tank which is best in the category. This definitely is the hot-selling bike for younger Malaysians because of its smoothness and aggressiveness.
Putting it against its competitors, here a glimpse of - 
SYM VF3i vs Yamaha Y15ZR vs Honda RS150R vs Benelli RFS150i
Starting with Yamaha Y15ZR, the table below will give you a brief about this moped. 
Weighing at just 115kg the Yamaha Y15ZR is the lightest bike amongst the lot. It features telescoping fork in front and monoshock at the back.
The bike has an LCD screen for gauge and odometer and an analogue speedometer. The bike has a 5-speed gearbox which is lesser than the 6-speed gearbox in the rival bikes.
The Honda RS150R is powered by a liquid-cooled 150cc DOHC 6-speed sports engine. The bike has better illumination because of the LED headlight which is, even more, energy efficient.
As can be seen from the table above, the RS150R has a fuel capacity of 4.3 litres. The bike is quite powerful, the engine produces a maximum horsepower of 16 PS @ 9000 rpm.
The Benelli RFS150i is a sports moped motorcycle features best of class company's engineering with Italian racing style. It is powered by a liquid-cooled, single cylinder SOHC engine with four valves has the latest 3 sparks plug technology. The exhaust of the bike is also specially designed, it releases emission gases immediately and offers great support to the structure of the bike.
The bike features an upside-down telescopic fork and a single coiled one at back. This is the first time a moped is offered with such suspension set up.
So, which one of the four you will buy? We suggest, to think your decision twice and make a wise choice.
You might also be interested in