SYM Bonus 110 SR: Reasons to buy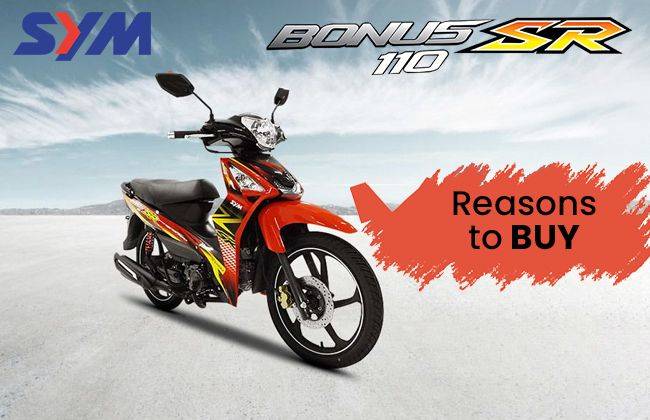 The below RM 5,000 price point might not seem to be the most exciting market segment for a motorcycle manufacturer. But it sure is one of the biggest. Little wonder then that even Honda has a few products in this price range. But like any price point, competition here is brutal. The Taiwanese two-wheeler maker, SYM, has given Honda a tough phase for some time now. Their E Bonus 110 with its price tag of below RM 3,000 especially comes to mind. But this is the absolute bare-bones model that is built to price.
Thankfully, SYM also sells a more advanced version of the Bonus called the Bonus 110 SR. The SYM Bonus 110 SR's price is just RM 3,292. But for this meagre amount, it comes with many features that let it rise above everything else in this segment. Here is a look at some of the reasons why this underbone moped is so good.
Stylish design
The bike is cheap, but that does not mean that it can't be stylish. It is, in fact, the sporty version of the E Bonus 110 and comes with enough features to justify the macho tag. It has even undergone a styling exercise very recently in 2017. The handlebar assembly shares space with a sharp halogen headlight and newly designed black rear view mirrors. Large triangular indicators take their place on the apron with a honeycomb grille in the center.
The SYM Bonus 110 SR color options are red, blue and yellow, which go very well with the new checkered flag graphics. There is a sporty single piece grab rail at the back with a single piece taillight accompanied by integrated indicator lamps. The red colored rear suspension springs also add to the sportiness. The muffler has also been given some sporty touches. The bike comes with a chain cover to keep your trousers clean. Also seen are the foldable footrests up front. The motorcycle rides on swanky 17" alloy wheels which is a delightful surprise at this price range. The instrumentation is analogue and is easy to read and does its job well.
Efficient engine
Powering the SYM Bonus 110 SR is an air-cooled and carbureted 108 cc single cylinder SOHC engine that churns out 7.1 hp at 7500 rpm and 7.45 Nm of torque at 5500 rpm. Power is on the lower side but still sufficient for its intended purpose.
Thankfully the bike weighs just 96 kg. This lightweight nature of the bike means that the engine makes enough power to send the bikes to speed up to 90 kmph. The power is sent to the rear wheel through a rotary 4 speed manual gearbox that uses an automatic centrifugal clutch. Being a cheap commuter bike, the mileage has to be great. Thankfully, the SYM Bonus 110 SR's mileage of 55 kmpl, is more than just a little bit satisfactory. Equipped with a 4-litre fuel tank, it can manage up to 200 km between fuel stops. SYM has provided the Bonus 110 SR with both an electric and a kick starter.
Powerful braking
Responsible for stopping duties is a dual piston calliper single disc in the front and a drum brake at the rear. How the company has managed to fit disc brakes and alloy wheels at this price range is remarkable. The disc brake setup gives it an added layer of safety that is often sorely missed at this price range.
Affordable pricing
At RM 32,92 this dinky little commuter underbone tries to punch above its weight. Yes, it is still very much bare bone when it comes to features. But at this price range, it manages to come with everything that a commuter on a budget can want. It is cheap to buy,  run and easy to live with. SYM has had a long run in the country and this means that getting this bike serviced or finding spare parts should be very easy too.
Buying a cheap underbone is often more difficult than buying a superbike. You want the best value for your money while also don't want to spend beyond your budget. The SYM Bonus 110 SR will satisfy you on both these counts.
You might also be interested in
Latest Sym Bonus 110 SR Motorcycles Videos on Zigwheels