Modenas Pulsar RS200 - Top 3 Highlights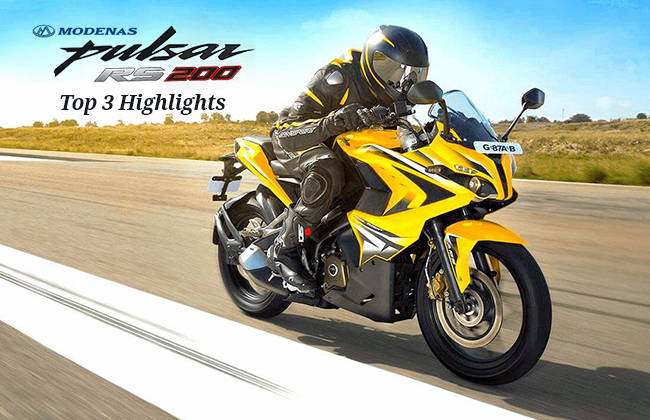 Sparking the rebirth of the Modenas brand in Malaysia was the alliance with the Indian motorcycle giant Bajaj. This allowed the ailing brand to refresh their lineup with something a little more contemporary and sporty. That being said, the Pulsar RS 200 does feel like an odd choice in a segment that is chock full of offerings from every brand under the sun. So, what makes this bug like thing so special?
Here are three of the most remarkable highlights.
Interesting Styling
What does it take to excite a prospective motorcycle buyer? Bajaj and by extension Modenas appear to think that they have it figured out with the RS200. And we cannot doubt them. The RS200 has a bulky big bike look with its wide front end. The visor and the front heavy stance make this bike look extreme and much bigger than it actually is.
Then you notice that the fairing covers the bike completely. The fairing itself is made up of so many layers of folding plastic panels and edges that it is hard to make head or tail of it. The front end gets a still conventional twin projector headlight setup much like the current Yamaha R1 and LED DRLs. But the rear tail light layout will make you take a double take. The split tail light is one of the strangest things we've seen standard on a bike. It looks like the legs of a very iridescent frog taking a leap. Try to get that image out of your mind the next time you see one on the road. Still, the bike does a good job of looking like a proper sports bike. Even still it is nowhere as extreme as one. The clip-on handlebars are mounted on risers and make for a rather upright seating. The seat itself is narrow and does not allow much moving about. Still pretty comfortable to cruise about though.

Extremely good value
India in many ways is similar to the Malaysian market. Customers in India have much the same expectations from their manufacturers as we do in Malaysia. And at just over RM 11,000 excluding GST, it delivers on a lot of those expectations. It has a triple spark 4 valve liquid cooled engine that was developed in collaboration with KTM. The engine is powerful enough to hold its own against the 250s producing 24.5 PS and 18.6 Nm of torque. Telescopic front forks with anti-friction bush on the front and a Nitrox mono shock absorber with a canister in the rear perform very well as suspension bits.
Best of all is the brake setup. It comes with 300 mm disc on the front and a 230 mm disc on the rear. While this itself might seem more than enough, it also comes equipped with single channel ABS, something that is still missing from many bikes much more expensive than this. The inclusion of such features at this price makes it very appealing to youngsters who have just acquired a license. It also ensures that they remain safe while they explore the limits of the tire's grip. With the equipment on board, it is indeed astonishing value for money.
A sporty proposition
We cannot forget that this is a bike that at least pretends to be a sports bike. And it's not all show either. The engine is indeed not as powerful as say a 250 cc engine but it does not struggle to keep up. Highway performance might feel a bit sluggish, but on city roads, it does provide instant acceleration. The real character of the bike comes out when it is shown some corners. The RS200 does not have too extreme a riding position - the upright position may not seem to translate into a good handler. But the RS200 is very rewarding to those who know what they are doing. Taking a corner fast is only limited by the rider's commitment. The 155 kg bike is eager to lean hard and keeps its line without a snag. It could, however, use something grippier than the 100/80-17" 52 P front and 130/70-17" 62 P rear tires that it comes equipped with.
Collaboration between manufacturers is nothing new and this time it has surely brought a gem of a bike on our shore. Modenas certainly has a winner on its hands with the kind of reception that the bike has seen since its launch. Now if they could only start making some gems of their own.
Explore Modenas Pulsar RS200
Modenas Motorcycle Models
You might also be interested in