GPX Demon 150 GR - What to Expect?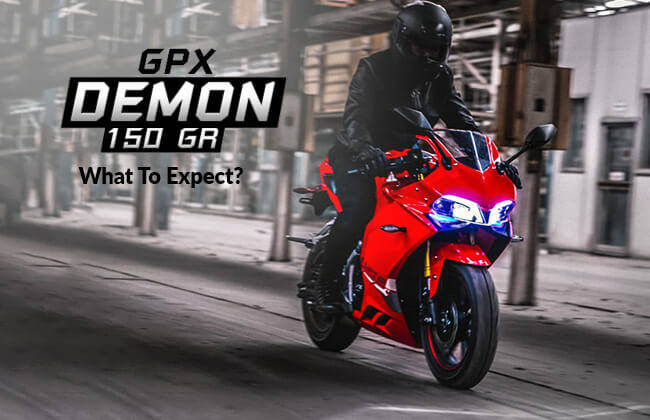 GPX is as obscure as it gets when we talk about motorcycle manufacturers. Being a company from Thailand that was born in  2007, it is not exactly a household name. It, however, made some pretty big strides in its short existing time. The company now enjoys a presence in Singapore, Cambodia, and the Philippines. In 2018, GPX made its way onto Malaysian shores with the launch of two brand new bikes.
But if you've seen the pictures on this page then you might be thinking that there is something fishy. No, they are not compressed out of shape. You are indeed looking at a mini bike here. This makes the Demon 150 GR – one of their first offerings in the country – extremely interesting.
The Demon 150 GR is just 1,835 mm long, 750 mm wide, and 1,050 mm tall. Just for the sake of comparison, the Honda MSX125 is 1,755 mm long, 730 mm wide, and 1,000 mm tall. This might give you a little perspective about what you are looking at here. The seat though is 780 mm high off the ground and the wheelbase is 1,230 mm. The wheels are 14-inch in diameter and are shod with 120/70 tires at the front and 140/70 at the rear. For comparison the MSX125 has pretty much the same dimensions except for the seat which is much lower at 763 mm. It also has 12-inch wheels with thinner tires.
While we can get over the small size of the bike, we simply cannot look past that styling. Every motorcycle manufacturer worth their salt, somewhat follows the Italians when to comes to design trends in the motorcycling industry. But this level of inspiration has never been seen before. It is as if the designers simply took the picture of a Panigale and then xeroxed it at half the size. The resemblance is uncanny. The shape of headlights, paint scheme, fully faired body, suspension components – all seems lifted straight from the Ducati Panigale. And we must say that it has a kind of endearing quality to it.
The level of equipment on this bike is almost beggars belief. Headlights, DRLs and tail lights, all get the full LED treatment. Upside down front forks from KYB, monoshock rear, disc brakes, fat Pirelli Diablo Scooter rubber, fully digital display, and clip-on handlebars – all for the price of RM 8,000 make this bike an insane deal. And that's not all. The bike also gets a small lockable underseat storage area and a USB charging point. This level of equipment is hard to find on bikes with a similar price tag.
This tiny bike with its 14-inch wheels and clip-on handlebars gets a 150 cc engine. It is carbureted and air cooled – probably to keep the prices low. Still this is quite unexpected in this class. There are no performance figures to be found but the bike is good for a top speed of 75 kmph with a weight of 135 kg. But the air-cooled engine with the fully covered body does not exactly raise confidence levels.
This bike shows ambition. The seat is snug and the seating is as a race like on a mini bike. The fat tires also inspire a lot of confidence.
However, this is where things start to go wrong. The GPX is not that well known a brand as let's say, Honda. Service and parts availability is not exactly going to be easy. With all the big brands mentioned in the spec sheet, it only gets worse. In the Philippines, the brand is being represented by Bike Continent, located at Johor Bahru, Johor. But even the company's website is not informative. Finding details about the engine's output is very difficult.
Is this a good bike? Possibly. What we can say for sure is that it is a good looking mini bike with racing bike riding stance and very good equipment level that is available for around RM 8,000. This price happens to be around RM 3,000 less than the MSX125 which is the closest competition to this bike.
So, now that you know what to expect from this tiny Panigale, is it worth your money and time?
You might also be interested in