Scenario - Japanese vs non-Japanese counterparts in the Philippines motor market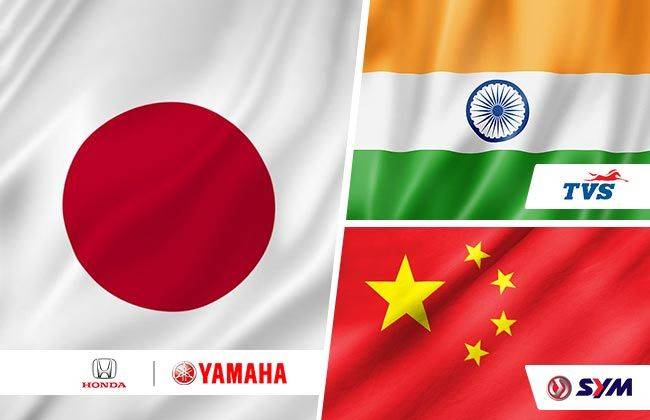 As per the current scenario, it is the Japanese who rule the Philippines motor market. Be it a traffic jam or on a red light signal, it is bikes from the 'J' brands seen moving past the crowd. In such a situation, where more than half of the market share goes in Japanese pocket. What are the survival chances of the two-wheeler brands that don't hail from the land of the rising sun, say for example SYM and TVS? Both these brands, one Chinese and other Indian are trying long and hard to spread their roots in the Philippines motor grounds. However, it seems like the Japanese boys are already in charge of the major section.
But losing hope will do no good and that's the reason why both these brands either through new products or promotions try to attract customers. However, we might say that SYM seems a bit content, as the brand is hardly seen bothered by its low sales. On the other hand, TVS seems to be working hard towards its dream, i.e to be known and trusted as its Japanese rivals. Very recently, this Indian originated bike brand organised an event in the Philippines, where it launched a new scooter called the TVS Dazz 110cc, along with a robust 3-wheeled shuttle, the King Fi.
What's more striking here is that the fight is not limited to the non-Japanese and Japanese clan, but further extends to India vs China. Yes, the two brands fight with one another over affordability and quality. Former one claimed by China and the later promise is made the Indian brand.
However, concentrating on the original fight between brands not- and from- Japan, here's both sides of the argument.
First - Why the Japanese would continue to dominate the Philippines motor market?
1.Long market standing
Japanese were amongst the first to bring two-wheelers to the Filipinos. People here know and trust these brands.
2. Better service and maintenance
Since these brands have survived the test of time, they have a huge chain of service centres across the country. Plus, their parts are easily available and even local mechanics are aware of the mechanism.
3. Extended lineup and great promotional offers
The Japanese brands have been in the Philippines for so long that now they have become well aware of Filipinos likings and dislikings. Even their promos are designed smartly to attract clients.
4. Dealership network
There's no dearth of dealership networks when it comes to Japanese brands, thus ensuring quick delivery and easy after-sale service.
5. Customer engagement
Apart from selling their products, these brands take an extra step and interact with their clients via events, shows, and another initiatives. Like Honda recently came up with its Safety Centre where it is giving riders safety lessons as well as the upcoming Aprilia Track Day and Modclass organised by Didi Resources.
6. Better marketing
It was only recently when Honda Philippines Inc. announced Coco Martin as their new brand ambassador. Thus, putting a stronger step on the marketing front and saving themselves a lot of prospective clients.
Second - Why we feel the non-Japanese bike brands hold potential to make a mark in the market?
1. A small but meaningful lineup
The non-Japanese brands may offer fewer products compared to their Japanese counterpart, but even with their limited offering, they provide a worthy purchase. Also, brands like TVS are slowly expanding their offerings based on the market demand, take for example the recent launch of Dazz 110cc.
2. Strong customer base worldwide
Both TVS and SYM have millions of satisfied customers worldwide. And if we are not wrong, TVS is amongst the top ten motorcycle manufacturers in the world. Thus they too display a promising future here in the Philippines.
3. Research and development
Few of the non-Japanese brands are investing in R&D, in order to supply their customers with world-class products. Again, a sign that they can make it big in our country.
4. The power of affordability
While the Japanese may offer variety but the Chinese and Indians get a breakthrough on the price point. They have vehicles that are budget-friendly and provide for all the necessary equipment and functions.
5. Expanding the dealership network
Currently, in the expansion phase, it's going pretty good for both SYM and TVS. As both are now reached by dealerships, as their potential in getting recognised.
So, what do you think, whether or not the sun will rise for the non-Japanese brand here in the Philippines? Or whether they'll continue to serve as mediocre brands? This question can only be answered with the passing time. All we want is best for our market, be it a local, Japanese, Indian, or Chinese.
You might also be interested in