Yamaha Ego Avantiz: Features explained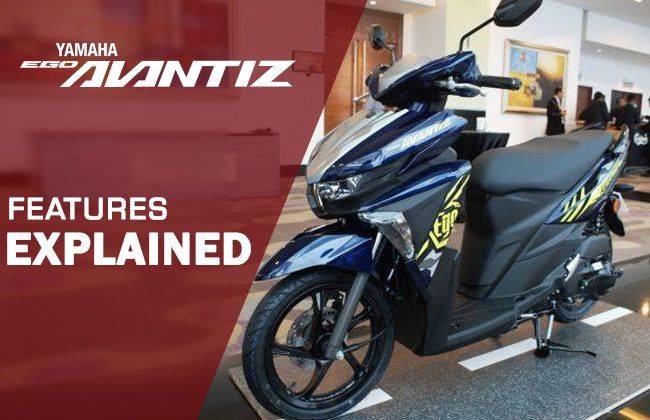 Catering to the needs of the people in the country, Yamaha has got a slew of products spread over different categories. The automatic scooter segment has picked up pace over the past few years forcing more competition in the segment. Yamaha has 5 different automatic scooters available in Malaysia. One of them is the Ego Avantiz. This peppy little scooter has been selling in some decent numbers for many reasons which we're going to talk about in this story. As far as the Yamaha Ego Avantiz price is concerned, it is going to set you back by RM 5,536.
Peppy engine
Looking at the Yamaha Ego Avantiz specs sheet, we came across its 124cc, single-cylinder petrol engine in the Ego Avantiz. This engine has got a bore and stroke of 52.4 mm and 57.9 mm respectively. The total power extracted out from this tiny engine is 9.3 hp at 8,000 revs. The torque number is also similar - 9.6 Nm - that kicks in at 5,500 revs. Since it isn't a very large engine, the engine oil capacity is also low at 0.84L. Like we mentioned before, the Ego Avantiz is an automatic scooter and hence, it has the V-belt transmission. Yamaha has also incorporated its Blue Core technology in Avantiz's engine. This helps the engine to deliver more power while maintaining the fuel efficiency.
Aggressive headlight design
Yamaha has always taken the style quotient of its scooters and underbone motorcycles pretty seriously. The Ego Avantiz is no exception. The front end of this scooter has been given a special treatment to make it very aggressive and dynamic. Not only this headlight design looks cool, but it also features full LED lighting which makes it that much more better than its rivals. Yamaha has also added an interesting option of adjusting the brightness of the LED headlight as per your liking and the surrounding environment. How cool is that?
Stylish brake light
The dynamic styling continues even at the back of the scooter. We get a modern design tail light that suits the overall scooter and fits perfectly; we mean that it blends in precisely without looking out of proportionate.
Stylish exhaust
The side look of the Ego Avantiz is enhanced by its stylish exhaust assembly. It's finished in pure black making it a bit sporty, and somehow suit the overall aggressive design language of the scooter.
Large under-seat storage
With the Avantiz you don't need to worry about carrying your helmet with you everywhere and feeling awkward. Yamaha has worked its way to provide a large under-seat storage in the Ego Avantiz. 14L is more than sufficient to keep your personal belongings and even a jet-type helmet.
Safety grab rails
The safety grab rails on the Avantiz are not only ergonomically placed with respect to the pillion, but they also look very sharp, perhaps, to gel with the sporty design of the scooter. We're glad that Yamaha at least provided this feature and didn't skip it.
Lightweight
The Ego Avantiz weighs in at just 96 kg (dry). Its lightweight nature makes it a breeze to maneuver in city traffic and narrow streets. Also, the engine performs better and the fuel efficiency numbers don't drop. Good job, Yamaha.
Brakes
The braking or stopping capability of the Avantiz come from a hydraulic disc at the front and a normal drum brake at the rear. The brakes are further assisted by large section tires - 70/90-14M/C 34P for the front and 90/80-14M/C 49P for the rear. The lightweight of the scooter also aides in scoring short stopping distances.
Styling meter cluster
We like the shape of the housing of the meter cluster of the Ego Avantiz. The meter cluster has got an 'Eco indicator' which lights up when you're keeping a control of your right wrist while riding. It shows that your current riding style is the balance between power and fuel efficiency. It would have been even better if Yamaha could throw in a fully digital meter.
Safety parking lock system
Since there is no manual shifting in and out of gears, automatic scooters come with a parking lock system as a safety feature. You can't park your scooter and put it in gear so that it doesn't move around. So to compensate for that, the parking lock system is used. This on/off parking lock system ensures your bike stays in place during engine idle and parking.
You might also be interested in
Explore Yamaha Ego Avantiz
Latest Yamaha Ego Avantiz Bikes Videos on Zigwheels