Check out the teaser of the new Infiniti QX60 Monograph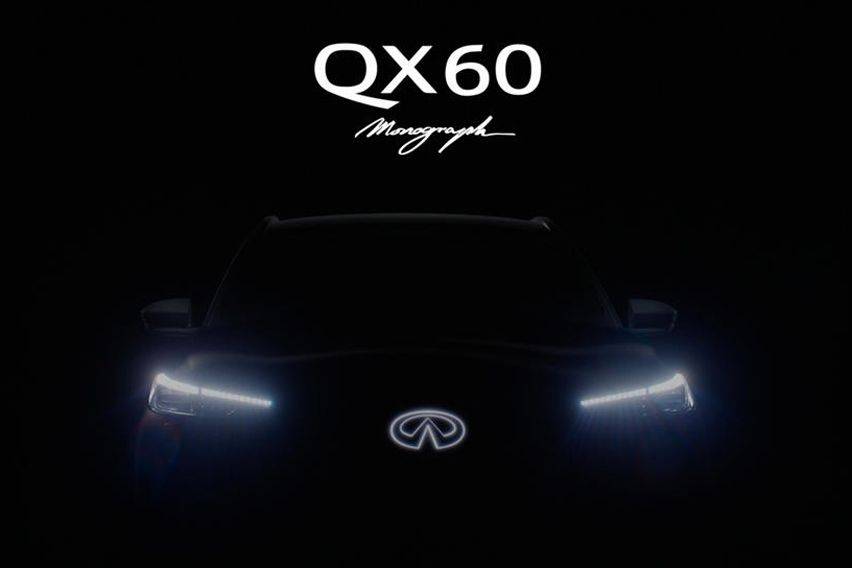 KUALA LUMPUR: Infiniti QX60 is a luxurious 7-seater crossover SUV with attractive design, a handsome interior, and a proven V6 engine. It was originally introduced with the 'JX' moniker in 2012, but after a year, the automaker changed its name as part of its naming strategy, where all models took on the 'Q' prefix. 
Over the years, the SUV has undergone several other revisions. And now, the Japanese brand looks ready to reveal its new version on September 24, when it pulls back the sheets of the QX60 Monograph prototype. 
Ahead of revealing the full redesign, Infiniti has released a teaser image of the upcoming QX60 Monograph concept, which hints at what the automaker plans for the next-generation of the three-row crossover. "The QX60 Monograph is a design study for a three-row SUV that illustrates the new direction that Infiniti designers are exploring for the QX60," the company said in a statement.
In the teaser, we can see high-mounted headlights, an illuminated Infiniti logo on the grille, and thin LED daytime running lights. The headlight graphics are slightly different from what the automaker currently uses on its production models.
The ongoing QX60 is powered by a 3.5-litre V6 engine good for producing 295 horsepower and 366 Nm of peak torque. A standard CVT transmits power to the brand's standard Intelligent all-wheel-drive system. The upcoming crossover is likely to ditch the continuously variable transmission for a conventional gearbox. 
As far as the cabin changes are concerned, we can expect its aging interior to get a vast upgrade as the redesign will mark a new generation for the QX60.
The revamped QX60 is likely to debut in the next several months; however, Infiniti has not yet spoken about it. The concept reveal will happen online at Infiniti's official website, on the date mentioned above.
Like the QX80 Monograph concept previewed in 2017, which largely mirrored the production-spec QX80 later on, we expect the Monograph of QX60 would also slightly differ from its forthcoming production version.
Also read: 2021 Infiniti QX80 revealed, with high-tech features & re-named trims
You might also be interested in
Latest Infiniti Cars Videos on Zigwheels