Renault Clio GT vs Honda Jazz: Battle of the Hot Hatchbacks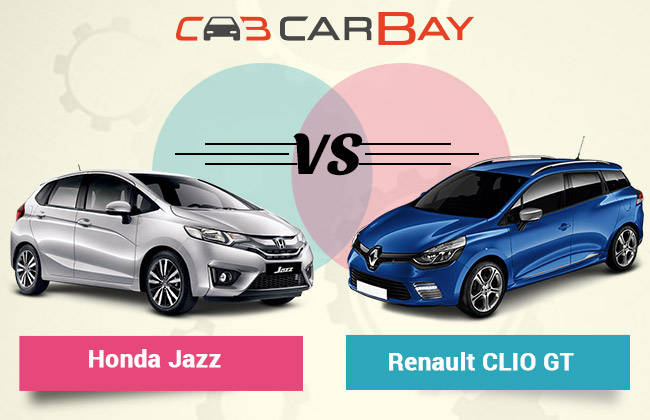 Kuala Lumpur: While Renault Clio GT was recently previewed in Malaysia, Honda Jazz has already marked its presence in the hatchback segment. Jazz was just an ordinary looking hatch, but Clio brought a new revolution with its sporty feel. Both of these cars possess high traits to lure potential buyers towards them. Nowadays, people look towards hatchbacks as small family cars with impressive mileage which provide them value for money. Most of the automakers have a got a hatchback in their model lineup due to its huge demand worldwide.
Would Clio be able to capture the much-settled market of Jazz, remains a question. It's hard to predict as both the cars have their own appeal. But to make this decision-making task easy for you, we have decided to draw a comparative platform casting out a general idea about specs, engine and features of these cars.
Talking about the engines, Honda Jazz is powered by a 1.5-litre SOHC i-VTEC engine which churns out a maximum power of 120 PS at 6600 rpm along with a peak torque of 145 Nm at 4600 rpm. On the other hand, Renault Clio GT is powered by a 1.2-litre turbocharged engine which delivers a maximum power of 120 PS at 4900 rpm along with a peak torque of 190 Nm at 2000 rpm. In case of century sprint, both the cars move head to head with a timing of 9.9 seconds. Hatchbacks are known for being fuel efficient, and following the legacy both the cars deliver an impressive fuel economy. While Honda Jazz delivers a mileage of 17.81 km/l, Renault Clio GT has moved a bit forward with 19.2 km/l.
Dimension wise, Renault Clio is longer and wider, but Jazz is a bit taller. Going by the exterior, Clio features a sporty design which gives it a fresh look, unlike the Jazz. If you crave for a modernised look in your car than Clio is for you. While Jazz lacks LED daytime running lights, Clio does not feature any fog lights. Clio is anchored with bigger 17-inch alloy wheels, unlike Jazz's 16-inch alloy wheels. Inside the cabin, both the cars have got similar features. Both of them lack leather seats and have got fabric-trimmed ones. A 7-inch display is made available in this duo along with a sound system. Even boot space is almost same with Jazz carrying 399 litres and Clio carrying 405 litres.
Now, the choice totally depends on you. Our task was just to brief you out so that you can make a decision easily.
Read our earlier comparisons:
Mazda CX-3 vs Honda HR-V: The battle of luxury B-segment
Hyundai Tucson vs Kia Sportage 2WD: Clash of Crossovers 
Proton Saga Plus Vs Perodua Myvi – The Battle of People's car
You might also be interested in
Latest Honda Jazz Cars Videos on Zigwheels