Proton Saga Plus Vs Perodua Myvi – The Battle of People's car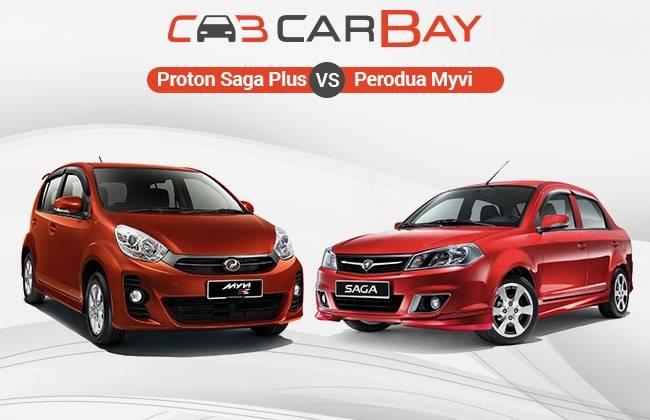 Kuala Lumpur: When it comes to the hottest economical car in Malaysia, there are two big-time rivals, Proton and Perodua to choose from. Both brags about their star performers Proton Saga and Perodua Myvi. These two cars are covering the maximum share of the Malaysian economic auto market leaving behind Toyota and few other Japanese ventures.
The battle has become more fierce with the launch of Proton's latest Saga, christened as Saga Plus. It carries a very economic price tag of RM 36K, less than the Myvi having RM40K. "Saga" has so far been the key seller for the Proton brand, registering 500,000 units since its launch eight years ago. Now, with the latest mutation of Saga SV to Saga Plus without any price change, the future of Perodua Myvi looks formidable. Saga Plus surely looks like a generous offering by Proton and to target all sections of potential car buyers. So, If you are planning to buy a brand new local made car, we have made it easy for you to decide between these two. We have compiled a comparative platform to give you a general idea about specs, engine, and features. So that our readers can make a wise decision while buying a brand new local car.
Engine Specifications:
Exterior and Measurements:
Interior design and features:
Briefly we can conclude that both of these frugally loaded chariots might look economical but differ a lot in their price, dynamics and appeal. If you think, Why invest extra five thousand on a hatchback if you can own a sedan, then you can settle down for a low spec and cheaper Saga. But, if Saga plus cannot satisfy your needs and you need a car with good fuel economy, then Myvi is for you. Although, if you have a big family and you carry more luggage then Myvi won't be able to fit it while Saga Plus can. Therefore, the choice totally depends on your needs. Our task is to brief you so that you can make a decision for the best value of money.
For now, Proton Saga Plus and Perodua Myvi are all set to lure customers in every possible way, and to give a tough competition to each other in the coming days. Stay tuned with us, for continuous updates!
Read our earlier coverage on Proton Saga Plus and Perodua Myvi:
- Proton Saga Plus: Additional features at entry-level price
- Proton Saga Plus Revealed in Malaysia, starting at RM33K
You might also be interested in
Latest Perodua Myvi Car Videos on Zigwheels