Hyundai Ioniq Hybrid: Test Drive Review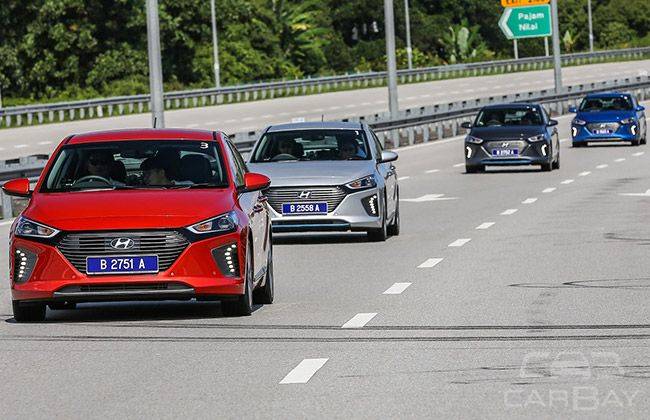 When you want to talk about a hybrid car, it is likely a Toyota Prius that comes to mind. This is basically because the market for B-segment hybrid sedan has long been dominated by the car that established the segment for more than a decade now before the Honda Insight joined the game much later.
Hyundai with its ever growing market share in the US for passenger vehicles, closely following the Far-East brand leader – Toyota – has now even introduced their hybrid sedan, the Ioniq. By just listening to the name, which sounds like ion or some electric stuff, one would easily suspect that the Ioniq is something different.
Active Exterior Features
The Hyundai Ioniq boasts a familiar design silhouette, a two-box sedan with a Kammback body style which is the design that calls for a body with a smooth contour that continues to tail that is abruptly cut off, resulting in a tall boot. Similar to the Prius, the shape is said to reduce drag coefficient, thus contributing to low energy consumption.
Closer inspection on the Ioniq will reveal a rather comical front Hyundai logo that is actually a picture or a graphic on a flat glossy surface instead of an actual 3-dimensional emblem that you can touch and feel. Apart from making the owner of the Ioniq feels special and, well, to make the car different from its lineup, behind the flat surface with the logo is actually where the camera and radar for Autonomous Emergency Braking (AEB) and Smart Cruise Control (SCC) are mounted.
High-tech Interior
With power-adjustable driver's seat (plus lumbar support) and leather-wrapped D-cut steering wheel, you can easily get to your optimum and comfortable driving posture. I happily sat low driving the car while still having reasonable outward visibility. However, the rear view from the cabin is blocked by a rather high horizontal spoiler element on the boot, naturally similar to the Prius.
According to Hyundai, they have brought 'Purified High Tech' concept into the car's cabin. However, the concept does not really show what it says. Yes, it's got high definition TFT-LCD Cluster that cleverly displays all important driving information and LCD audio system with capacitive touch screen display, but that's about it. There's also blue accents surrounding air-con vents and few other elements, but that does not help either.
To me, the interior is somewhat more to interactive rather than high tech. But that's just me. And to quote Criss Jami, "Finding ways to say about your opinion is more than half the battle."
Engine and Drivetrain
Knowing the fact that the Ioniq is a hybrid car (with a battery fitted somewhere under the rear seats) and gets a dry-type Dual Clutch Transmission (DCT), it's hard to avoid the perception that the car would drive numbly and with occasional soft jerk upon rolling from standstill.
But boy, I was wrong. At low speed and on uneven roads, the Ioniq feels light and firm. Hyundai managed to give the Ioniq a smooth DCT, diminishing all other stories you have heard about DCT before, especially with a dry-type as the one on the Ioniq. The car rolls forward in traffic fluidly and the DCT upshifts seamlessly. However, the gearbox is nowhere as engaging as, let's say, VW's DSG. Even in Sport mode, the gearshift does feel sportier, but not that aggressive. But mind you, I'm not saying that I don't like the gearbox. It's just nothing spectacular about it. I do like the sporty sound of the car in Sport mode, though. The DCT, Sport mode and instant throttle response make the Kappa 1.6-litre Atkinson GDI engine more alive.
Ride and Handling
It might be heavier than conventional sedans, but the tuning with its suspension setup – MacPherson up front, multi-link at the rear – helps to give the car a solid ride. I'm not sure about other drivers, but I kind of like the idea for a hybrid sedan.
However, when pushed to the limit, the car starts to build and show its chassis character. Manoeuvring the car at speed through the slalom course translates to noticeable body rolls which is good to remind you of your speed and input. We also did heavy acceleration and then applying hard brake before making a tight U-turn. The brake feel is not something you would say progressive, yeah I am aware of the fact that Ioniq is not designed to be a weekend driver's car, but the braking force is sufficient and predictable even after multiple runs through the course.
On the twisties, the Ioniq shows that I was wrong, again. I'm sure you would expect the car to be understeer, but at high-speed cornering with constant throttle input, I can slightly feel the traction at the rear that starts to break, instead of the front washing out. Yup, even with 1.56 kWh battery under the rear seats, and two other passengers with me. I bet driving alone and accidental mid-corner lift-off would leave unaware drivers a hairy moment before Electronic Stability Control (ESC) and Vehicle Stability Management (VSM) intervene.
NVH-wise, the Ioniq is just quieter and feels more refined than the 2nd and 3rd generation Prius. The Prius is a tiny bit noisier in the cabin partly because Toyota has removed some padding and insulations for weight-saving measures.
Safety
There are tons of driving assists thrown in the Ioniq such as Braking Assist System (BAS), Hill-Start Assist Control (HAC), Lane-keeping Assist System (LKAS), Autonomous Emergency Braking (AEB), Blind Spot Detection (BSD) and the aforementioned ESC and VSM. During the drive, we got to test AEB on a course designed by Hyundai. Working up to 50km/h, the system uses the car's front radar and camera to detect the rate of approach towards the front object, in this case, a mannequin. Up to a certain distance and certain rate of approach, the car will automatically apply the brake if it senses no brake input by the driver. It's a bit of a workout actually as you constantly battling with yourself to resist from applying the brake as the car applies the brake at the very last minute.
Despite working up to 50km/h which is the speed of everyday stop-and-go traffic, the effectiveness of the system is still factored by elements like tyre condition and road condition. A common sense, I guess? I think it's not unnecessary to remind to always focus on your driving and maintain your vehicle accordingly.
Verdict
The Hyundai Ioniq proves that a carmaker that normally produces everyday commuters like Hyundai can sometimes surprise you, both by producing a hybrid sedan and the way they execute it. From handling character to distinctive DCT gearbox, the Ioniq shows that a hybrid car does not always have to be that way, you get what I mean? A hybrid car does not necessarily drive too different from a conventional car. It can be sporty and alive while delivering tree-hugging fuel economy numbers.
One thing to highlight, maybe for the next generation Ioniq, Hyundai can pull some different exterior design as the Ioniq does not need to have 'too similar' look to be a hybrid car. Nonetheless, I would say that it is a job well done for Hyundai, even on its first attempt.
Specifications of the Hyundai Ioniq
Engine: 1.6-litre Kappa GDI 4-cylinder, direct injected
Transmission: Dry-type Dual Clutch Transmission (DCT)
Power: 139 hp (104 hp + 45 hp from electric motor)
Torque: 265 Nm (147 Nm + 170 Nm from electric motor)
Safety: 7-airbags, ABS, Brake Assist, Hill-Start Assist Control, ESC, Vehicle Stability Management, Blind Spot Detection, Lane Keeping Assist System
Price: HEV: RM100,328; HEV Plus: RM110,828
Latest Hyundai Ioniq Hybrid Cars Videos on Zigwheels