Volkswagen Polo: Maintenance guide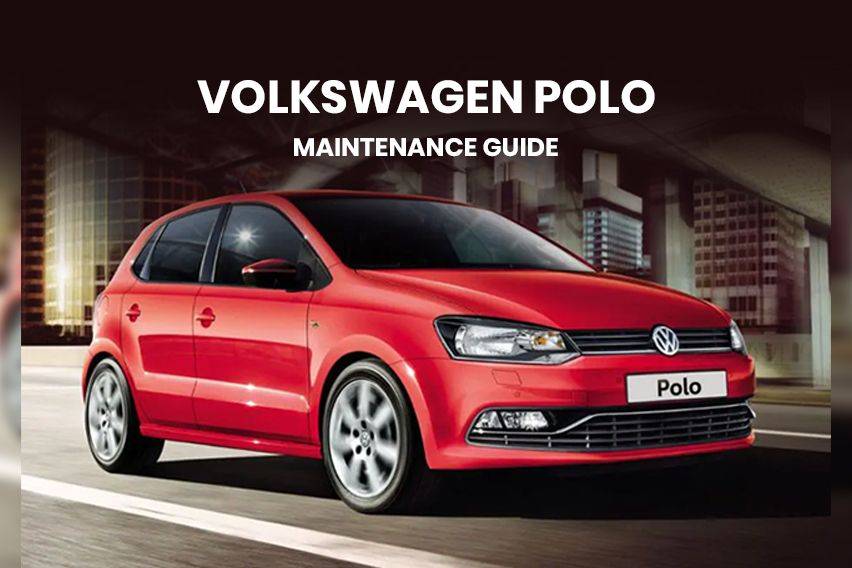 The smart, sassy VW Polo has a premium and slightly grown-up image that shouts sensible in a way that no other high-selling small car does. For years, it has reigned supreme as a spacious, clever, and relatively affordable upper-class German city hatchback in the international market.
Based on Volkswagen's PQ25 platform, the ongoing Volkswagen Polo arrived on the Malaysian shores back in 2014. It is available in the Comfortline trim with an optional Join package. Under the bonnet, the hatchback sits a 1.6-litre gasoline engine generating 105 PS maximum power at 5,250 rpm and 153 Nm peak torque at 3,800 rpm. The engine is coupled with a 6-speed Tiptronic transmission and returns a mileage of around 18.78 kmpl. 
Fully kitted-out VW Polo specs sheet incorporates several niceties like a 6.5-inch touch-infotainment system, cruise control, Climatronic air-conditioning, keyless entry, multifunction leather-wrapped steering wheel, height-adjustable driver's seat, electrically adjustable exterior mirrors and much more. Volkswagen Polo price in Malaysian starts at RM 74,800.
With such specifications, it is a fantastic hatchback undoubtedly. But if you want to keep your Polo in top shape, you will need to place it on regular car maintenance.
How often should a VW Polo be serviced?
Volkswagen Passenger Cars Malaysia offers free three-year or 45,000 km (whichever comes first) maintenance on the purchase of the hatchback. 
1st Annual Service - at 15,000 km or 12 months old
2nd Annual Service - at 30,000 km or 24 months old
3rd Annual Service - at 45,000 km or 36 months old
And after that, it recommends scheduled service every 15,000 kilometers.
Indeed, these check-ups are designed to make the vehicle last longer. However, it does not always need professional help. While waiting for the next trip to the service centre, here are some tips for maintaining your Volkswagen Polo.
Change and refill the engine oil
The oil keeps the parts of the engine lubricated. It enables it to work efficiently with minimal risks for overheating. The engine oil collects dirt over time, so replacing it with a fresh batch every 15,000 kilometers as per Volkswagen's guidelines will keep the engine running smoothly.
Always use the oils that correspond precisely to the specifications of Polo's engine. Experimenting or going for a lower-quality oil could seriously damage the engine in the long run.
What kind of oil does a Volkswagen Polo take? 
It is recommended that you use "multigrade high-lubricity oils" at the time of changing fluids. It lessens friction and extends the engine's life.
Replace the oil filter
The oil filter is what keeps the oil free from contaminants. Since it gradually accumulates dirt, it can get clogged, so it also needs to be changed every 15,000 km mileage based on Volkswagen's recommendation.
Check the tire pressure
For this, first check out the correct tyre pressure for factory-fitted tyres, which applies to all-season, summer and winter tyres. One can find this information on a sticker located on the inside of the tank flap of Volkswagen Polo.
If the tyre pressure is too high or too low, the tyres will wear prematurely and the hatchback will not handle well. Therefore, the pressure should be checked at least once a month and before starting a long trip. 
After altering the tyre pressures, please make sure that the valve caps are screwed on well.
Volkswagen also recommends replacing tyres that are older than 6 years. 
Checking fluid levels
Just as a human body, vehicles can also not survive without a proper amount of fluids. Thus, ensure that water, oil, and coolant of the hatchback are filled to the prescribed levels. It is necessary to do this kind of check once a week. The better you keep your Polo hydrated the better it will perform. 
Inspect brakes
The brake pads of the vehicle get worn out over time. A worn-out brake pedal can lead to any sort of trouble, so instead of just waiting for them to be completely faulty, better to be safe and have them replaced at the first signs of wear and tear. 
Regular cleaning
No matter if your Polo is a week old, a month old or a year old, make it a practice to clean it on a regular basis from the inside as well as outside. Regular cleaning will keep it away from corrosive tendencies, colour fading, foul smells, and dirt damages.
These are just some of the essential steps one can take to ensure that his/her Volkswagen Polo is always in good shape. These can add more years to the vehicle's life span and keep enjoying high mileage. Although, if you ever find yourself in what to do when trouble springs up, visit an authorized Volkswagen service centre to be assisted by professionals.
Also read: Volkswagen Polo vs Toyota Yaris: The better B-segment hatch you should pick
You might also be interested in
Latest Volkswagen Polo Cars Videos on Zigwheels