BMW i8 - Overhyped or a masterpiece?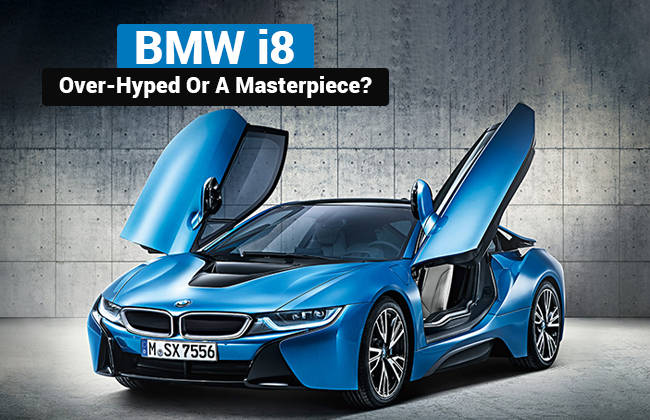 Come to think of it. We all love supercars. These cool looking, ground-hugging and tech-laden pieces of metal are a boy racer's dream. If you would have observed them in the concept form, your drool would have filled the pond. Yes, they look that good in concept form. However, most of it gets lost in translation to the production floor. This is done because not everything that the concept showcased can eventually make it to the regular car because of cost and infrastructure limitations.
However, there are very few and we mean really 2-3 automakers who have actually got their concept vehicles in exactly the same form to the car buying public. One of them is BMW. They showcased the still-futuristic looking i8 car at the 2009 Frankfurt Auto Show. It was a white slab of carbon fibre and other exotic materials and looked too good to be true, In fact, many even wondered if BMW was out of their minds especially with the lofty 20 kmpl from the then diesel engine. Things changed and the company took a good four years before they got the production version of the Vision EfficientDynamics concept. There was nothing breathtaking in this one. No, no. They didn't make a Kizashi out of the Vision EfficientDynamics but instead used the same concept car as a base. Wow!
What was, even more, wow was the fact that BMW not only priced it sensibly compared to petrol sipping supercars but also ensured that they doubled the claimed mileage figure. The headlamps of the BMW i8 were done up with laser technology, something unheard of in those days. Other cars followed suit with the laser technology. The glamour quotient was accentuated by its low lying stance and scissor doors.
The cabin itself was a delight with inlays of blue deeply ingrained into the upholstery and dashboard. Blue being the new green these days, it was easy to understand why they chose this colour for the inside too. The steering wheel itself is another work of art and uses different leather trims. There are also the spheric leather seats, heated front seats, all three auto-dimming mirrors and that awesome sound system from Harman Kardon.
The powertrain itself is nothing short of an enigma. It is the only major change from concept to production. Instead of going for the dirty fuel, BMW chose a petrol powertrain. It is a 1.5-litre 3-cylinder unit but makes 230 PS and the electric motor sitting on the rear axle contributes to 129 PS more. In theory, this BMW makes 350+ PS but it isn't. There are multiple drive modes available like eDrive, EcoPro, Comfort and Sport. Together with the 6-speed automatic transmission, this supercar can do 0-100 kmph in 4.4 seconds and a top speed of 250 kmph. All this while giving an astonishing 30 kmpl efficiency. The BMW i8 can also be a front-wheel-drive model or a hybrid all-wheel-drive option. What's brilliant is that the i8 can also traverse up to 30km on pure electric power. This pure electric power also helps propel the car to 130 kmph as well. Neat.
So, the big question popped - if it's overhyped or not? Nope, we don't feel the same. It isn't ultra exclusive and for the price of a Range Rover, you get a supercar and one that proclaims to save the environment too. If anything, the fanfare for the i8 has died and needs to be revived. ASAP!
Explore BMW i8
BMW i8
RM 1.38 Million

MA starts : RM 14,312
You might also be interested in