2019 Ford Fiesta R2 revealed for Junior World Rally Championship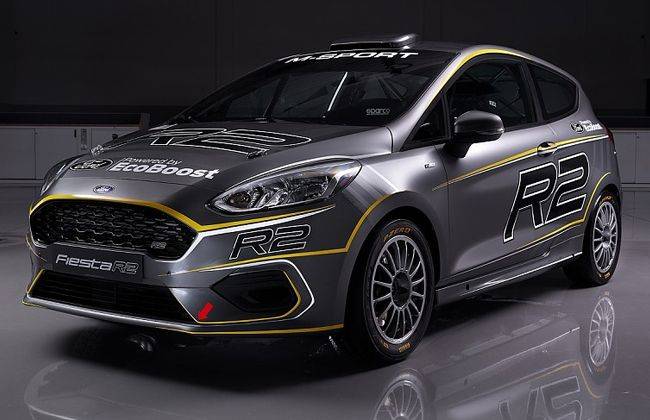 KUALA LUMPUR: M-Sport Polish has unveiled the brand new Ford Fiesta R2 for the Junior World Rally Championship. The rally car has been designed to meet the latest FIA R2 regulations.
The Ford Fiesta R2 is based on the Fiesta ST-Line, which is a road-legal vehicle. The Polish M-Sport team has been working with the Ford Motor Company to prepare for the 2019 Junior RC. The brand-new Ford Fiesta R2 is the first car, which has been designed and developed on M-Sport's Krakow facility.
The 2019 Ford Fiesta R2 gets an updated suspension, which features Reiger dampers at the front and rear. The front damper is three-way adjustable, while the rear is two-way adjustable. The dampers are also aided by Eibach springs and an optional anti-roll bar.
Under the hood, a 1.0 litre EcoBoost mill is offered and is capable of churning out a maximum power of 200 hp which comes at a rev range of 6,500 rpm. The power is sent to the wheels by a five-speed sequential gearbox from Sadev.
The vehicle comes with ventilated AP Racing discs at the front and Alcon solid discs at the rear. Both of the discs get Alcon competition callipers. The car did not get a design like that of the higher-class Fiesta WRC but shares some designing cues with it.
Maciej Woda, an active member of the M-Sport Poland's board said that the main philosophy behind the Fiesta R2 is to provide the future stars with a perfect platform to show their skills in front of the world, what can they do in the early stages of there careers.
You might also be interested in
Latest Ford Fiesta Cars Videos on Zigwheels