The all-new Ford Fiesta Active offers an SUV appeal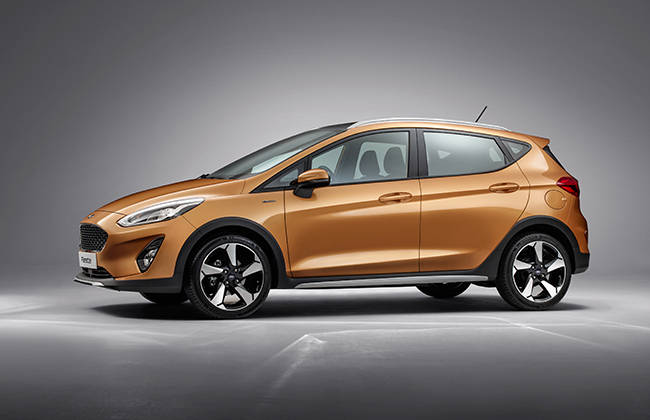 KUALA LUMPUR:  The latest Fiesta Active is the first hatchback crossover from Ford. The Fiesta Active is inspired by SUVs that integrates rough-and-tough styling with enhanced versatility. It reflects amazing dynamics and lavish comfort along with driver assistance technologies.
The Ford Fiesta Active is a higher version of the original Fiesta, with a higher ground clearance.
How is the Fiesta Active different from other models within the same range?
Apart from the extra ground clearance, the Active comes with a kit that makes it more of an SUV rather than a hatchback. To begin with, there is a slatted grille with a honeycomb design.
The bumpers of the Ford Active are similar to those of the standard model, however, there is an unpainted cladding with a silver trim piece similar to a skid plate.
Additional cladding supports the lower half of the Active's body. There is a pair of roof-rails that enhances the SUV effect. Another artificial skid plate is attached to the rear end of the car. The area for attaching the license plate is painted in matte black. Ford claims that the height difference between the Ford Fiesta active and the standard Fiesta is of 18mm. Ford says that this difference will provide more stability at rough roads.
The Ford Fiesta Active will get a more durable material for soft-padding while the dashboard is similar to the Ford Fiesta. It will feature an 8-inch infotainment screen that comes with a floating design. The system is now an upgraded version of Sync3 and powered by QNX instead of Microsoft.
Under the hood, there are three turbocharged gas engines and one turbodiesel engine. All the engines use Ecoboost 1.0-litre  with numerous power outputs.
The model is available in 100 PS, 125 PS, and 140 PS guises. For the turbodiesel engine, it consists of a 1.5-litre unit that produces 120 PS. There are two transmission choices available - six-speed automatic and a six-speed manual.
The Ford Fiesta Active is a front wheel drive only and there is no all-wheel-drive variant of the model.
You might also be interested in
Latest Ford Fiesta Cars Videos on Zigwheels