Last Beetle rolled out off the VW Puebla Plant, Mexico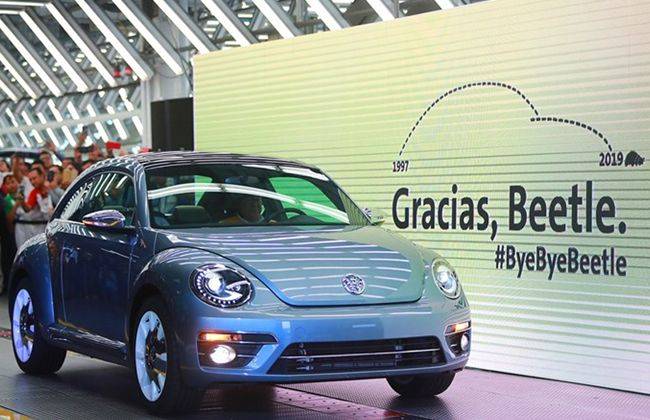 KUALA LUMPUR: Yet another automatic legend journey comes to an end. It was last year in March when the German automaker announced the eventual discontinuation of the Beetle. This was followed by the reveal of the Beetle Final Edition in September 2018. And now, the company has finally rolled out the last Volkswagen Beetle from its Mexico factory line.
President and CEO of Volkswagen Group of America, Scott Keogh said "It's impossible to imagine where Volkswagen would be without the Beetle. From its first import in the year 1949 to today's retro-inspired design, it has showcased our company's ability to fit round pegs into square holes of the automotive industry. While its time has come, the role it has played in the evolution of our brand will be forever cherished,"
However, don't expect to see the last Beetle on the streets, as the company plans to keep this one to themselves. It would be kept as a museum piece at the VW Puebla factory and be an everlasting tribute to the company's storied and rich heritage. It is to be noted that the last Beetle came out as a Denim Blue coupe with a distinct blue exterior color.
The first Beetle was introduced in 1938, and it became an instant hit, courtesy to its reliability, simplicity, and practicality. This was followed by the arrival of the 'New Beetle' that came with a retro-inspired design along with a funky cabin. Lastly, the third-generation Beetle was introduced in 2011.
Now that the VW Mexico factory will no longer be engaged in the production of the Beetle, it would be assigned the responsibility to build a new VW compact SUV for the North American market. The name of the SUV though is still under the covers; however, it has been confirmed to be slotted below the VW Tiguan.
As we all and Volkswagen bid farewell to the iconic Beetle, the automaker continues to believe that the car will serve as an inspiration for all auto manufacturers in the time to come.
Explore Volkswagen Beetle
You might also be interested in
Latest Volkswagen Beetle Cars Videos on Zigwheels