Mazda pays homage to Eunos, reveals special edition MX-5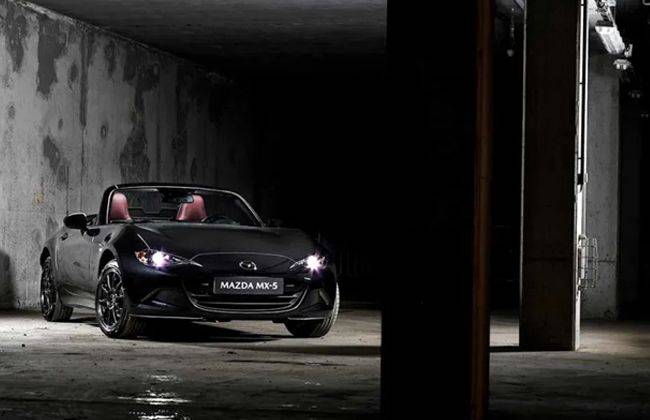 KUALA LUMPUR: More than three decades ago, Japanese automobile manufacturer Mazda Motor Corporation had introduced a new brand called the Eunos, to mark its entry into the premium car segment. The brand comprised the Eunos Roadster which rolled out in 1989. The car was produced until 1997 when Mazda retired the Eunos brand.
The Hiroshima-headquartered company has now revived the Eunos, not as a standalone brand, but as a special edition model for the MX-5 lightweight two-passenger car. Production of the MX-5 Eunos Edition will be limited to just 110 units. All cars will have the same black colour scheme, a Burgundy-tinted Nappa leather finish inside the cabin, and unique matching Rays wheels. The car will bear a commemorative plaque drawing attention regarding its limited-edition status in the MX-5 series.
The Mazda MX-5 Eunos will be hauled by a four-cylinder, 2.0-litre engine which produces around 185PS maximum speed. The engine will be mated to a 6-speed manual gearbox with a 6-speed automatic transmission (AT) available as an option. Other major features of the car would include a nine-speaker Bose audio system, a touchscreen infotainment unit with exhaustive connectivity options, i-Activsense safety features, LED adaptive headlights, Bilstein shock absorbers, and heated, and Recaro body-hugging seats.
Meanwhile, Mazda recently updated the MX-5 Miata, which is arguably the highest-selling two-seater sports car in the world. The update is more of a facelift and not a full mid-cycle upgrade. The MX-5 Miata, for the 2020 model year, gets the i-Activsense feature which includes a blind-spot monitoring system along with rear cross-traffic alert, lane departure warning, and smart city brake support. These features come as part of standard equipment event on the entry-level Sports trim.
Mazda currently has a portfolio of 11 different cars for the Malaysian market. The BT-50 compact pickup truck at RM 101,538 is the lowest price Mazda vehicle available in Malaysia, while the CX-9 2020 commands the highest price of RM 319,610.
Also Read: Electric Mazda MX-30 First Edition priced at £27,000
You might also be interested in
Latest Mazda MX-5 RF Cars Videos on Zigwheels