Honda City vs Toyota Vios: The Ultimate Street Sedans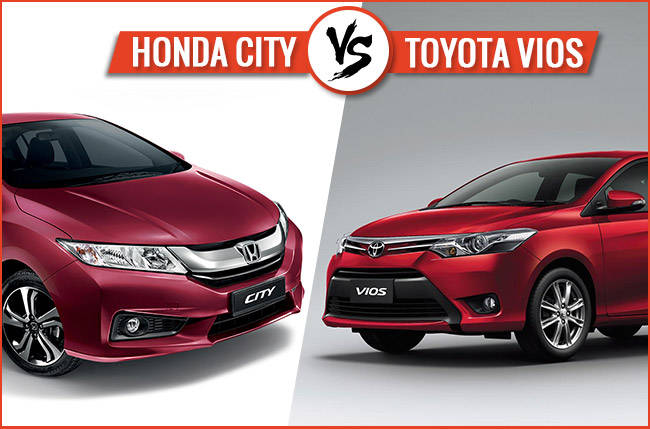 Kuala Lumpur: Mid-size sedans have always remained the most popular automotive segment in any country because of their practicality, space and price. In Malaysia, Honda and Toyota are the market rulers in this segment owing to their star performers Honda City and Toyota Vios. Both these Japanese carmakers dominate the world sedan segment and are also great market competitors. On one side there is Toyota, touted as the largest car maker in the world while on the other side there is Honda, a major competitor that lures buyers with its dynamically designed cars.
If there is something which makes the competition even, then it is among the B-Segment sedans produced by the respective automakers. This brings the Honda City vs Toyota Vios in the arena. Both of these cars are equivalent to each other in many aspects, even their popularity in Malaysia. So, we can say that these prove the statement of brothers in the rivalry. Vios and City dominate the market owing to their spectacular city design, abreast interiors with spacious cabins and that all at a very reasonable price.
They're the cars which can provide you the huge interior space coupled with ample of boot in a B-Segment sedan. Although the question in everybody's mind is that, which of them is better or Which of them deserves the B-Segment crown. So, we have created a brief comparison of both the cars by comparing the major features.
1. Exterior Design
In terms of the dimensions both the cars are almost alike. The Honda City and the Toyota Vios offers spacious cabins with premium features that are clearly evident from their bigger dimensions.
The Honda City measures 4,440 mm in length and surprisingly Toyota Vios is slightly small in terms of its length. However the Honda City is a bit wider measuring 1695 mm, but Toyota Vios is only a fraction bigger with a width measuring 1700 mm. Thus, If you are looking to fit three 6 feet adults at the rear then both can do the task, however, the Vios might be a little help, because the height of Vios measures out to be 1,475 mm while the Honda City measures 1470 mm in height. The wheelbase also holds a significant difference and Honda City' intelligent interior design proffers more space.
2. Engine and Fuel Efficiency
Both the cars are judiciously powered by their respective engines. The Toyota Vios engine is a 1.5 litre VVT-i engine that churns out a 107 bhp at 6000 rpm along with a maximum torque of 141 Nm at 4200 rpm, whereas the Honda City engine is powered by a 1.5 litre i-VTEC engine that produces 118 bhp at 6600 rpm along with a 145 Nm of maximum torque at 4600 rpm.
However, the Vios' engine is more fuel efficient which is evident from its fuel economy. The Vios can run up to 100 Km by using only 7.5 liters of fuel whereas the Honda City covers a 100 Km run by burning 8.2 liters fuel.
Also, the Honda City offers a CVT gearbox, while the Toyota Vios is as usually coupled with a traditional 4-speed automatic gearbox. But it is not something that is noticeable because Toyota has successfully managed to cope up with its efficient sync of power-plant and transmission that performs brilliantly well.
Thus choosing a better engine among both is a neck to neck competition. On one hand Toyota Vios is more fuel efficient, although it sacrifices in power terms, while the Honda City offers more horses with less fuel economy. However, considering both as city cars to deal more traffic, we will go for Toyota Vios for a better engine perfect for the city drives.
3. Interior Design and Features
It is sad to note that both the carmakers does not offer much in their entry level models. The Honda City interior comes with a unique amber illumination display whereas the Toyota Vios 1.5 J Spec gets only the standard white illumination display. Honda city interior cannot be beaten when it comes to rear passenger legroom and space but the Vios E rear passenger seats can also be folded in a 60:40 folding split seats which allows you to expand the rear boot space improving the practicality of the car.
Honda City features a modern dashboard with fine touches giving it a more premium look than the Vios, whereas the interior theme for Vios G is changed from beige color to black color which gives it a more refreshing change from the pale and old-fashioned beige.
Although the Vios features keyless entry and push start button system over the Honda city but still when we are comparing a B-Segment city car then Honda City surely wins with its bigger boot and interior space.
4. Safety and handling
Both the cars proffers advance safety features, however the City will get you 6 airbags earning a 5 Star ASEAN NCAP rating. However, the Toyota Vios coming in the mid-range variant proffers only 2 airbags and ABS as standard which is quite disappointing. The City on the other also offers Vehicle Stability Assist along with Hill Start Assist. The special variant of Honda City namely City E also offers a unique feature called 'Emergency Stop Signal'. Thus this feature will activate the hazard lights to warn drivers of any emergency brake conditions. Considering all the other safety options the Honda City is still the winner in terms of safety and handling.
5. Conclusion
Both the cars will attract the buyers with their own accord. However, considering all the above-mentioned factors, the Honda City is more in a win-win situation over Vios because it comes with a similar price tag along with better power output, more features and space. In the safety department too, the City is comparatively better equipped than the Vios. Apart from which, the car also offers a bigger boot with ample of interior space for the city rides and heavy traffic.
Also Read: Kia Rio Sedan vs Honda City vs Toyota Vios: Battle of B-Segment Sedans
You might also be interested in
Latest Honda City Car Videos on Zigwheels