Top 5 Cars to be revealed at the 2018 Geneva Motor Show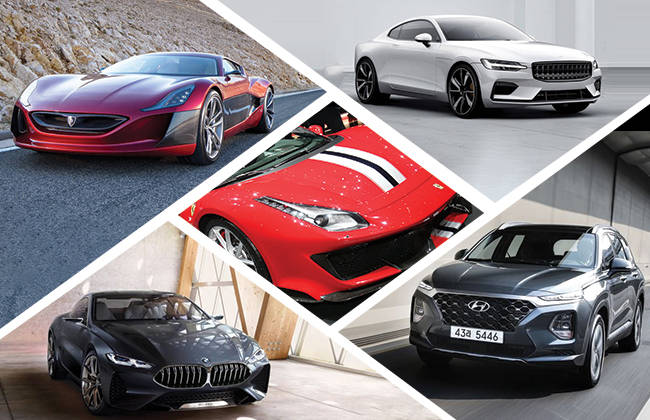 The Geneva Motor Show is a very big deal. Everything from your next hatchback to your next bedroom wall poster can be found in its numerous stands. Here are the top 5 cars scheduled to be revealed here, that should have everyone waiting with bated breath.
Rimac Electric Supercar
The Romanian challenger to the established supercar league is back with a new car. Their previous attempt, the Concept 1 was a very capable performer. It also sent Richard Hammond for a long stay at the hospital. Their new car, the Concept 2, promises to be better in every way. That is a tall order considering the first car was a $1 million beast with 1073 hp, 1600 Nm of torque and a top speed of 221 mph. The company has been very tight-lipped about the car. They have only released a vague and loud teaser video that shows an altogether curvier car.  Needless to say, they have our attention.
Polestar 1
Last year in October, Volvo finally saw the light and decided to bring out the Polestar 1 under a separate badge. The Polestar 1 is a coupe flagship of that brand. It is essentially a Volvo S90 with its diagonal bar on the front grille missing and gaining a lot of muscles to create the Polestar 1. Even better, this beauty will be followed by the Polestar 2 and 3 – sedan and an SUV respectively. Being the performance-oriented wing of the Volvo this comes with some impressive figures. It is a stiff, lightweight, carbon fiber bodied hybrid grand tourer with 600 hp and 1000 Nm of torque. But frankly, that body alone was enough to convince us.
Hyundai Santa Fe
The new Hyundai Santa Fe finally receives a major upgrade since its first launch. Being the flagship SUV of the Korean giant, this is going to be the face of Hyundai in many countries. This upgrade allows it to finally catch up to its family's current looks. It has a new larger grille, thinner LED headlamps and Kona inspired fog lights. The body also tries to look more like a coupe with its upswept rear window while keeping its butch looks. All these changes do make it a more exciting prospect.
Ferrari 488 Pista
Ferrari has a new and more hardcore version of the 488 GTB in store for us. This version of the V8 powered monster now produces a staggering 700 bhp. It also has a McLaren 720s rivaling 0-60 mph time of less than 3 seconds. This combined with the reworked aerodynamics and a more lightweight construction makes it faster than the LaFerrari on their test track. By extension, this also makes it one of the fastest production Ferraris ever to come out of Maranello. Claims like these then, justify the name of the car, which is Italian for "track".  
BMW 8 Series Gran Coupe
The BMW 8 Series Gran Coupe is going to be a landmark car in the history of BMW. The 8 Series concept is most notable for introducing the new design language that is supposed to be followed by BMW cars. Considering how rarely this happens, this is indeed a very important reveal. Going by teaser images released till now, it is also going to be a very beautiful reveal. Any car lover worth their salt will be waiting for this reveal with bated breath.
There are many, many more cars that these 5 will be sharing space within the next few days. So, stay tuned for more news as it comes out of Geneva.  
Explore BMW 7 Series Sedan
You might also be interested in
Latest BMW Cars Videos on Zigwheels