Toyota Yaris facelift patent images leaked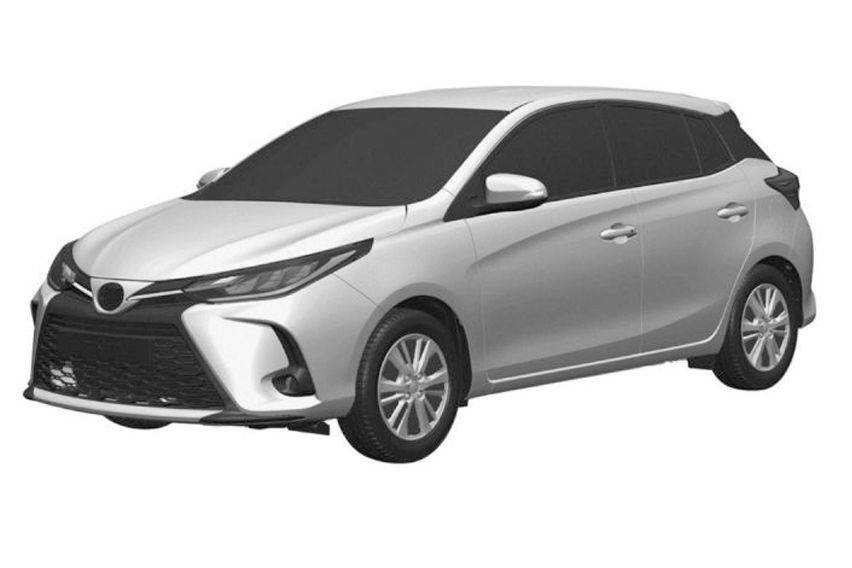 KUALA LUMPUR: The Japanese automaker, Toyota launched the fourth-generation Yaris hatchback in the domestic and European markets last year. Later on, it was joined by a performance GR version and then Yaris Cross this year.  
However, in some markets, third-generation Yaris continues to be sold in both hatchback and sedan versions and is likely to get a refreshed version soon. Moreover, the automaker is yet to introduce the fourth generation Yaris Sedan. 
Well, here we have patent images of facelifted Yaris hatchback, recently leaked from the patent image submission to the National Institute of Industrial Properties of Argentina, according to a Brazilian news site Parabrisas. 
Compared to the current model, the car mostly looks the same available in Malaysia, but a few differences can be easily noticed in the front. The headlights and hood of the car are pretty much the same, but its lower half of the grill is slightly tweaked. The lower air intake is also taller and slimmer in the new version.
The daytime running lights that were positioned on the bumper earlier, now appear to be integrated with the headlights. Moreover, fog lights also get some tweaks and look similar to the new Corolla Altis. If the images are to be believed, the current generation could have only two or three years left in its life cycle.
Some reports indicate that this might be the GR Sport package for the Yaris as the automaker is pushing the sporty sub-brand. It would be too early, for now, to comment on whether it would be a facelift or sportier version.
Here in Malaysia, UMW Toyota launched the locally-assembled CKD Yaris last year, so it is unlikely to get any change soon.
Toyota's approach to Yaris is quite different, as it uses the same name for three different cars. In the US, Yaris is a rebadged Mazda 2. In Europe and Japan, Yaris is an entirely different model based on the TNGA-B platform. While in other emerging markets like Malaysia, Yaris is based on a shared platform with the Toyota Vios.
Also read: 2021 Toyota Sienna minivan launched with a hybrid powertrain
You might also be interested in