2021 Mitsubishi Eclipse Cross brochure leaked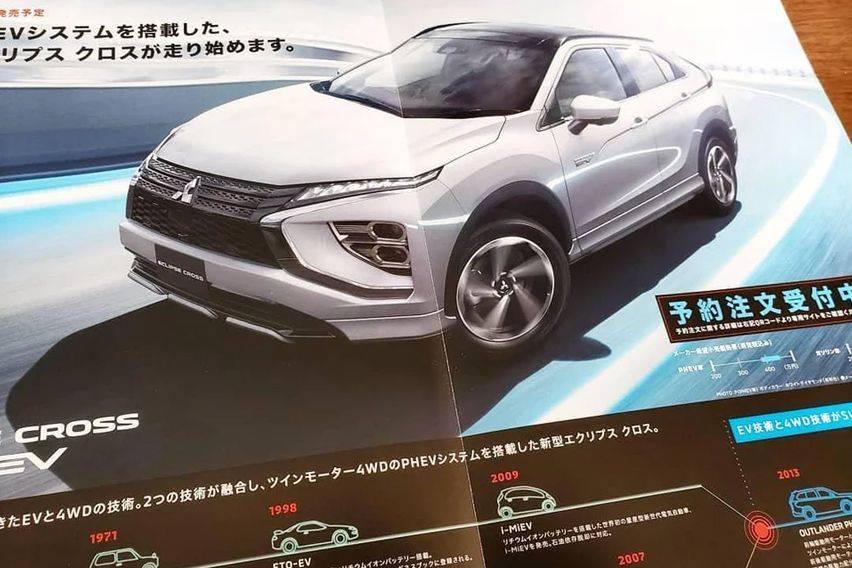 KUALA LUMPUR: We have already received the first official glimpse of the revamped Eclipse Cross when Mitsubishi teased a shadowy image of the compact crossover last month. And now, we can see it in a full-fledged manner before the official reveal as the leaked brochure of the SUV has appeared at a Spanish automotive forum named Cochespias.
As per the leaked images, the 2021 Eclipse Cross will feature a new and sharp front look with a more aggressive Dynamic Shield grille housing honeycomb patterns and gloss black highlights. The new front fascia looks somewhat like the Xpander with a two-tier headlamp design shifted downwards and placed in oval shells, whereas the top slimmer lights become DRL.
Earlier, Mitsubishi confirmed that the refreshed crossover will incorporate new styling cues, inspired by the 2017 e-Evolution Concept, with "radically changed front and rear design." At the back, we can notice a restyled lighting signature for the tail lamps and new detailing for the bumper. Also, there will be new wheel designs and trim options like most mid-life updates.
The alleged brochure also revealed that the new Eclipse Cross will gain a PHEV option for 2021, although which drivetrain it will use is not yet known. The market speculates that it could borrow the mechanical setup from the ongoing Outlander PHEV, which includes a 2.4-litre gasoline engine paired with front and rear electric motors and a 13.8-kWh battery pack. If not this, a new PHEV drivetrain that would be used in the next-gen Outlander PHEV can be taken for the new Eclipse Cross.
Other than PHEV, the crossover continues to get power from the 1.5-litre turbo petrol and 2.2-litre turbo diesel mills.
As for the interior, the leaked info does not unwrap any details, but it is likely to get minor updates with most of the bits carrying from the current version.
Set to make debut in the ongoing fiscal year in Japan, the crossover SUV is not yet available here in Malaysia. However, the market is waiting for the new Xpander whose launch is around the corner.
Also read: Buy or Hold: Should you wait for Mitsubishi Xpander or buy Toyota Avanza?
You might also be interested in
Latest Mitsubishi Cars Videos on Zigwheels