MG ZS safety scores announced by ASEAN NCAP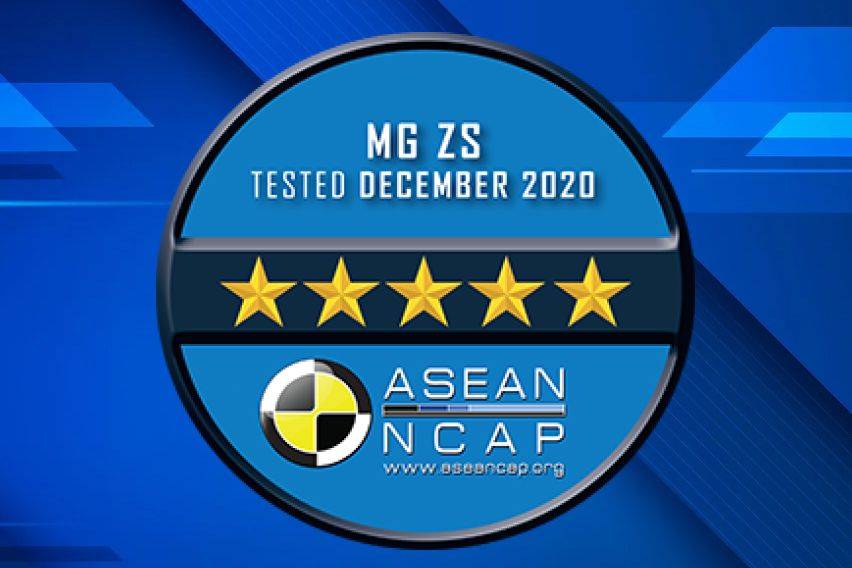 KUALA LUMPUR: The recent car that ASEAN NCAP tested before the year-end is the MG ZS compact SUV. The agency tested the new MG ZS 1.5L C+ variant with the built year 2020. The said ZS trim originated in Thailand and will be sold in the Thai and Vietnam market. This model is equipped with two airbags, ABS, a seat belt reminder system, electronic stability control, as standard.
As for the scores, the compact SUV from MG scored an overall safety rating of five stars.
Let's now get into the safety test details and see how the car performed under the several tests conducted by ASEAN NCAP.
Adult Occupant Protection (AOP)
Score: 32.27/36
Star rating: 5
As far as AOP is concerned, MG ZS scored a total of 32.27 points out of 36, segregated as front impact (14.27/16), side impact (16/16), and head protection tech evolution (2/4).
The data acquired during the front impact collision showed the SUV providing good protection to the passengers and the car remaining stable. While the driver's chest protection came out as marginal, the passenger received adequate protection.
Child Occupant Protection (COP)
Score: 40.96/49
Star rating: 5
Under COP, the agency performed three tests - Dynamic test, Vehicle based, and installation. The former was performed on two sets of child dummies - 18-month and 3-year old, and the car got a perfect score of 22 upon 22. In the latter two examinations, MG ZS scored 9 out of 13 and 9.96 out of 12, respectively.
Safety Assist
Score: 11/18
Star rating: 5
Under the safety assist test, the MG ZS's several safety features were examined, like the seat belt reminders, blind spot technology, effective braking & avoidance, and advanced SATs.
Conclusion
In the ASEAN NCAP assessment, the MG ZS achieved an overall score of 81 points out of 103, thus securing a 5-star rating for itself.
Also Read: 2020 Isuzu MU-X scores 5-star safety rating
Sell your car at the best price
Verified and genuine buyers
Free listing
List your car

You might also be interested in

Choose a city to get promos and prices in your area