Subaru Forester 2019 vs. Honda CR-V - The better 5-seater crossover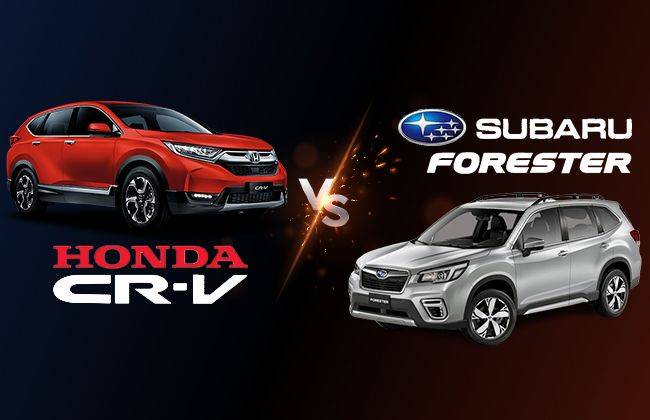 Even though there might be an increase in demand in the 7-seater SUV segment in recent times, the compact 5-seater crossover SUV segment is still more popular and has more options. Vehicles in this segment kind of provides the best of both the worlds - sedan and full-sized 7-seater SUVs. Two out of the many products available are the Subaru Forester 2019 and Honda CR-V.
Subaru launched the new fifth-generation Forester in Malaysia later this year. With a handful of noticeable changes, the new model is expected to lure in more customers. On the other hand, it has been quite a while since the CR-V got any update. Although Honda did make 300 units of the Limited Edition CR-V Mugen available in Malaysia earlier this year.
Subaru Forester 2019 vs. Honda CR-V: Dimensions
The Forester is 41 mm longer than the CR-V, however, it is the latter which is the wider of the two. Also, Subaru has a longer wheelbase. So, maybe, it might have better legroom for the rear passengers, it would be easier to fit 3 people abreast in the rear of the Honda. When it comes to height, CR-V is shorter than the Forester. Also, its 1.5 TC 4WD variant is slightly taller and has 10 mm of more ground clearance than the rest of the lot.
Subaru has a rich history in WRC (World Rally Championship), perhaps, that's the reason why the Forester 2019 specs have a ground clearance of 220 mm, much higher than that of the Honda CR-V. So you wouldn't need to worry about scraping your Forester's underbody.
Subaru Forester 2019 vs. Honda CR-V: Exterior
Subaru has added most of the exterior features in the Forester that you would expect in such a vehicle, however, Honda has taken things a step higher. The fact that the HR-V looks more modern than the Forester has mostly to do with the design of its front and rear end.
Honda has gone ahead with a pair of sharper headlights with integrated LED DRLs and its signature chrome grille is also present. The same can be said for the rear; sharper and better-looking. Also, features like a programmable power tailgate, dual-tone alloy wheels, etc. act as the cherry on top of a cake.
Subaru Forester 2019 vs. Honda CR-V: Interior
The interior of both vehicles is phenomenal. Fit and finish, quality of materials, premium feel, comfort, etc., everything is top-notch. Some features in the Forester, like the aluminium pedals, paddle shifters, etc., reflect Subaru's connection with rallying.
But we think Honda has nailed it here as well by adding features like a large full-colour TFT instrument console, wood panels, Android Auto and Apple CarPlay, etc.
Subaru Forester 2019 vs. Honda CR-V: Engine
The Forester is available in only a single and rare Boxer engine option whereas the Honda CR-V specs mention two common in-line fours, one of which is turbocharged. The naturally aspirated engines of both vehicles produce similar power and torque figures.
However, it is the CR-V's turbo mill that takes the lead with higher numbers - 37 PS and 74 Nm more than the Subaru. To utilise this power, Honda provides both 2WD and 4WD options, however, you only get AWD with the Subaru.
Subaru Forester 2019 vs. Honda CR-V: Safety
We are glad to report that neither of the brands has cut short on the safety front. Apart from the basic safety features, these cars also have some high-end safety features. Subaru has its own EyeSight Driver Assist Technology that includes adaptive cruise control, lane monitoring, etc. On the other hand, Honda's Sensing safety package is also very similar.
Subaru Forester 2019 vs. Honda CR-V: Price
Subaru Forester price starts at RM 139,788 for its base model whereas Honda CR-V price starts at RM 138,308. At RM 150,992, you can have the CR-V's turbocharged engine with more power and torque whereas at RM 149,788 will get you the naturally aspirated Subaru but with AWD.
Subaru Forester 2019 vs. Honda CR-V: Conclusion
The Forester has more elegant looks when compared to that of the CR-V and maybe this would appeal to more families. The CR-V has an upper hand in the engine department thanks to its 1.5-litre turbocharged mill.
From the safety front, both cars are brilliant. And there isn't much of a price difference as well. For those who want to move ahead with the changing times, perhaps, CR-V's full-digital dash would fancy them, while Subaru's standard AWD is also mouth-watering.
Also Read: 2020 Honda CR-V facelift unveiled with updated styling in the United States
You might also be interested in