Check out 2020 Honda Civic hatch Mugen accessories with prices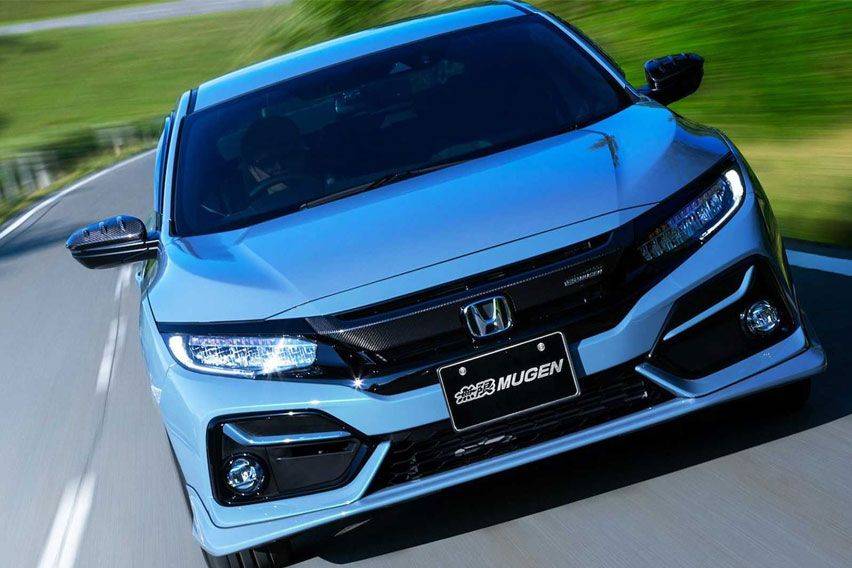 KUALA LUMPUR: Mugen has finally come up with a bunch of exterior and interior accessories for the 2020 Honda Civic hatch. All the Mugen add-ons make the hatch look even more sporty and sturdy, however, it all comes at a price. The company offers a bunch of packages and kits, nevertheless, the customers are even free to pick individual items listed in these packages.
Let's get to know what Mugen has in store for the 2020 Civic, starting with the exterior bits. Below we have mentioned the Mugen element along with the prices -
| | |
| --- | --- |
| Carbon-fibre front grille cover with Mugen emblem | 97,900 yen (RM 3.8k) |
| Rear lip with integrated diffuser  | 79,200 yen (RM 3.1k) |
| Front bumper garnish, front lip | 64,900 yen ( RM2.5k) |
| Side skirts | 93,500 yen (RM3.7k) |
| 19-inch multi spoke aluminium wheels | 53,900 yen (RM2.1k) |
| New two-tiered roof spoiler  | 93,500 yen (RM3.7k) |
| Hydrophobic wide-angle side mirrors with integrated LED indicators | 28,600 yen (RM1.1k) |
| Door visors | 19,800 yen (RM782) |
| Carbon-fibre registration plate holder and door handle protector, and solid metal Mugen emblem | 7,480 yen (RM295) per piece |
| Carbon-fibre side mirror caps | 64,900 yen (RM2.6k) |
| Catback exhaust system | 192,500 yen (RM 7.6k) |
Besides, Mugen is also offering an Aero & Wheel package for the 2020 Honda Civic. Available for 407,000 yen (RM16k) it comprises of the following elements -
Front and rear lip
19-inch aluminium wheels
Side skirts
Note, the items mentioned above can also be purchased separately and would cost 453,200 yen (RM 18k), thus making it more expensive than the package. Also, the prices include painting.
The Mugen effect can be seen on the inside as well. The company offers many options, like driver-only Alcantara full bucket MS-R seat with rails for 264,000 yen (RM 10k), quick shifter for 36,300 yen (RM 1.4k), flat-bottom leather/carbon steering wheel for 89,100 yen or RM 3.5k. Further, part of the list is a push-start button with the Mugan logo, carbon-fibre cabin stickers, and black or red floor mats.
The Honda Civic Mugen package is not just limited to beautification, but it makes the car perform better via elements that'll enhance its braking. Included in the list are sport brake pads (with 500 degree Celsius of operating range for 45,100 yen (RM 1.8k). This can be combined with a four-piece micromesh brake line set for 35,200 yen (RM 1.4k) and 282 mm front rotors for 36,300 yen ( RM 1.4k). Want more? Well, also on offer are high-performance brake fluids, 0W20 engine oil, thermostat, MT105 engine oil treatment, and high-performance engine oil filter.
Impressive, isn't it? Do let us know your thoughts on the Mugen Civic accessories in the comments section.
Also Read: 2022 Honda Civic sedan and hatchback are likely to debut next spring
You might also be interested in