Perodua Myvi: All Variants Explained
The outgoing avatar of the Perodua Myvi represents the model's third generation post its first unveiling way back in 2005. The Myvi has been seen as the cornerstone in the Malaysian auto scene, and the hatchback has gone on to become arguably the most popular four-wheeler in Malaysia since its inception.
KEY TAKEAWAYS
How much does the Perodua Myvi cost?
The Perodua Myvi price starts at RM 42,790 and goes all the way up to RM 54,090.
How many variants of the Perodua Myvi are on offer?
Perodua Myvi comes in five variants - G MT, G AT, X AT, H AT, and AV AT.
Why is Perodua Myvi so popular?
Because it is an affordable car fitted with a fuel-efficient engine and several comforts and safety features.
Is Myvi safe?
Yes, because it comes with Perodua's Advanced Safety Assist (ASA) tech, four airbags, ABS with EBD and BA, stability control, and more.
The Myvi takes its pride of place in the hotly-contested and profitable B-segment in Malaysia, which also sees cars like the Proton Iriz and even the Bezza competing for attention. However, if you have already decided on the Myvi and are on the look-out for the perfect variant to settle with, then you have come to the right article.
But as it is always with such stories, let's take a look at some Perodua Myvi specs and data, before we go on to explaining each of the variants in detail.
Perodua Myvi dimensions
In terms of its overall size and proportions, the third-generation Perodua Myvi is practically a larger car than its predecessor. The new model is longer, wider, and has a more stretched-out wheelbase as well. Not just that, the new Myvi also comes with a more usable 277-litre boot - an increase of 69 litres over its precursor. And when you compare the Myvi's nearest sibling (the Axia), its boot is still the more capacious one.
Now moving onto matters that may or may not cause a dent in your wallet…
Perodua Myvi price in Malaysia
Now that you have had a peek into the line-up and their respective prices, let's explore what's under the hood of the Perodua Myvi.
Perodua Myvi engine and transmission
If excellent fuel economy is your utmost priority, then the Myvi with the 1.3-litre motor will please you with its 21.1 kmpl claimed mileage and with the 4-speed auto in-charge. Finally, let's address the elephant in the room and address the core topic - details on the Myvi's variants.
1. Perodua Myvi 1.3L G (MT)
Kicking things off for the Perodua Myvi is the entry-level 1.3L G (MT) variant. Priced at just less than 43,000 ringgit, this one is the car for you if you don't really care about features,
better exterior/interior trim, and a manual gearbox is your jam. The 1.3-litre four-popper in this one produces 94 hp and 121 Nm of torque, driving the front wheels via a traditional 5-speed manual transmission.
Now, we now that the G trim (with the manual gearbox) is the cheapest variant in the Myvi line-up. So, what all can you expect to get (in terms of equipment) with this one? Here's a quick rundown:
14-inch alloy wheels
Electrically-adjustable wing mirrors with integrated turn indicators
Rear parking sensors
Acoustic front windshield
Automatic LED headlamps with 'follow-me-home' function
Keyless entry with push-button start
Tilt-adjustable steering wheel
Driver's seat with height adjustment
Split-folding rear seats
4-speaker audio system with USB and radio support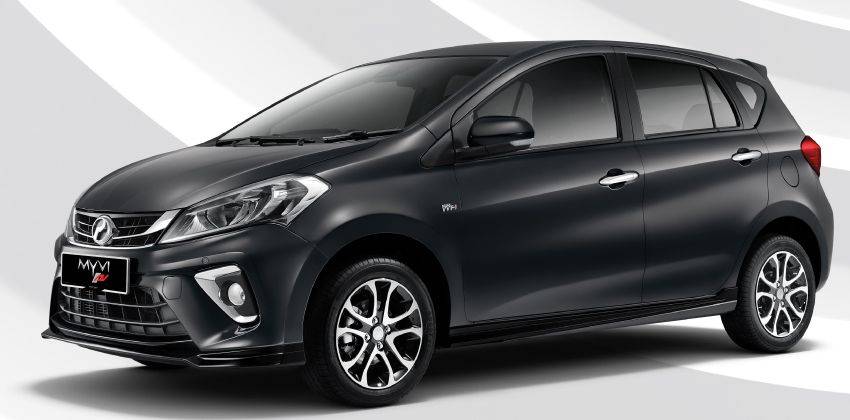 As for its safety features, this base variant of the Myvi comes with the following equipment:
Four airbags (dual front & front sides)
Anti-Lock Braking System (ABS) with Electronic Brake Force Distribution (EBD) and Brake Assist (BA)
Vehicle Stability Control (VSC) with Traction Control (TRC)
Emergency stop signal (ESS)
ISOFIX rear-seat anchor points
2. Perodua Myvi 1.3L G (AT)
Priced at RM 44,590, the only discernible difference between this and the variant before this is the fact that it comes with the 4-speed automatic gearbox as standard. However, apart from this, there really isn't much differentiating this variant from the base.
Of course, you do benefit from an automatic gearbox, thus reducing fatigue whilst driving on our traffic-congested roads. And even though you have to shell out an extra 1,800 ringgit, the convenience of not having to shift gears manually is a huge plus. However, if it is fuel economy you are worried about, don't fret - the automatic variant of the Myvi 1.3 can prove to be just as efficient as the stick-shift.
However, if you have around RM 2,000 more to spend but still don't want to go beyond the RM 50,000 mark then the X trim of the Myvi should do the trick.
3. Perodua Myvi 1.3L X (AT)
Starting from RM 46,590, the 1.3L X represents the fully-loaded trim of the Myvi with the 1.3-litre motor. Power figures remain the same, and as for frugality, this variant is still impressive as it returns 21.1 kmpl on a combined cycle. In terms of its standard equipment list, here are the main ones you need to know about…
Front & rear parking sensors
Front fog lamps
Power-folding wing mirrors
Chrome-clad outer door handles, front grille & fog lamp housing
Leather-clad multifunction steering wheel
USB charging port
Audio system with Bluetooth connectivity
Adjustable rear-seat headrests
Perodua's 'Eco-idle' engine stop-start system
And as for additional safety tech, this fully-loaded (1.3) variant tags along with the following:
4. Perodua Myvi 1.5L H (AT)
As you can see by the title, this variant of the Perodua Myvi comes equipped with the larger and more powerful 1.5-litre engine - along with the 4-speed auto 'box. Just as a quick rehearsal, this motor puts out 106 hp and 140 Nm of maximum thrust. It still spins the front wheels and can get to 100 kmph in around 10 seconds, and is limited to a top whack of approximately 175 kmph.
As for its most notable features, the Myvi 1.5L H comes with the following:
15-inch two-tone alloy wheels
Two-tone front & side body kit (with side skirts)
Rear roof-mounted spoiler
In-built toll reader
The Myvi 1.5L H also adds one really important and convincing safety tech:
Six airbags (dual front, front sides & curtain)
5. Perodua Myvi 1.5L AV (AT)
This is the fully-loaded variant of the Perodua Myvi - the 1.5L AV. Costing just over RM 54,000, this variant comes with a lot more bells & whistles that might please buyers looking for an all & out Myvi experience. While the exterior of this range-topping trim may not look too special when compared to its lesser H trim, it is what lies inside and underneath that really matters here.
In terms of its equipment, the Myvi 1.5L AV comes with the following gadgets:
Perodua's Advanced Safety Assist (ASA) tech. This adds the following
Front Departure Alert (FDA),
Pre-collision Warning (PCW) with Pre-collision Braking (PCB) & Pedal Misoperation Control (PMC)
Then there are other features like…
Reverse parking camera
Window tint
Leather seat upholstery
Touchscreen infotainment head unit supporting live GPS navigation & SmartLink connectivity for Android smartphones
Also Read: Perodua Myvi - Features we love
Sell your car at the best price
Verified and genuine buyers
Free listing
List your car
Perodua Car Models
Perodua Aruz

Perodua Myvi

Perodua Bezza

Perodua Alza

Perodua Ativa

Perodua Axia
Perodua Cars


Select your city to start search
Or select from popular cities