Proton Ertiga: Reasons to buy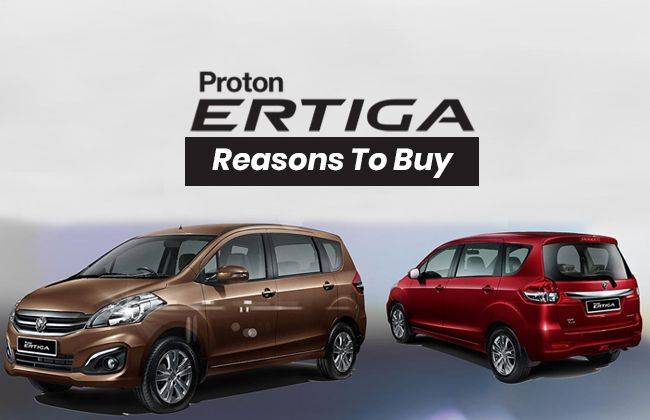 The Proton Ertiga is the most affordable people-mover sold by the local carmaker, yet. It is discernibly smaller in its dimensions than the Exora MPV and is targeted at a completely different set of buyers. If you're contemplating of getting a decent, hassle-free MPV with six/seven seats but don't want to spend a penny more than what's required for the job, the Proton Ertiga is a good starting point. Also, unlike its Exora stablemate, the Ertiga is a straight up, rebadged Suzuki - it has almost next to no Proton parts on it, at all. Still, in its first generation, the Ertiga reached the shores of Malaysia in late 2016 and so far, has enjoyed some amount of success. So, why should you buy this B-segment MPV? Well, let's try and find out.
It doesn't cost all that much
Priced at just less than RM 57,000 for the base variant with the manual gearbox, even the fully-kitted trim of the Ertiga with the automatic transmission only costs a shade over 62,000 ringgit. To put that into perspective, the Exora can set you back between RM 60,000 to RM 67,000. That means the Ertiga is over 6,000 ringgit cheaper than the top-tier variant of the Exora. Since Proton had to put next to no effort (read money) behind the design and engineering of the Ertiga - they have been able to pass along the savings to the end user.
The entry-level trims are known as 'Executive', and can be had with either a 5-speed manual or 4-speed automatic gearbox; the addition of the auto 'box adds approximately another RM 3,000 to the sticker price. However, considering the added convenience of losing the clutch pedal, that extra dough is well worth it. Meanwhile, if you want all the goodies that the Ertiga can offer, you need to look at the range-topping Premium trim - it wears a price tag of RM 62,278. And even at that cost, the Proton Ertiga is still a relatively inexpensive family MPV.
It doesn't drink too much
There's no point if the car you purchase is only cheap to buy, but then costs you a bomb in fuel charges. Thankfully, that's not the case with the Proton Ertiga. Not by a long shot. Compared to rivals like the Perodua Alza which barely manages to achieve about 11 kmpl, the Proton Ertiga (automatic transmission) is certified at over 16 kmpl - making it significantly more economical. Meanwhile, the manual variant is capable of returning an astonishing 17.5 kmpl. With its larger 45-litre fuel capacity, the Ertiga can theoretically cover well over 700 kilometres on a single tank. The powerplant that's responsible for hauling the 1.2-tonne Ertiga and its payload is a 1.4-litre, naturally-aspirated four-cylinder unit. It comes equipped with double overhead cams and a multi-point fuel injection system, and is capable of producing 91 horsepower and 130 Nm of torque.
It is reasonably comfortable and spacious
An MPV's primary job role, a prerequisite if you will, is to ensure optimum use of space on the inside. While larger ones such as the Exora are more adept at it, the smaller Ertiga handles this task quite admirably. In fact, the Proton Ertiga boasts of a wheelbase that's actually 10 mm longer than the larger Exora's. The cabin of the three-row Ertiga can seat up to a maximum of seven people, though it's better (read safer) if used as a six-seater since there's no seatbelt for the middle passenger. As for the last row of seats, you could have two adults in there, though the high knees-up position and lack of decent leg and headroom will be a bummer for most. However, it works really well if you just want to carry a couple of kids or an occasional friend over short distances.
The first and second row work plenty well even for taller adults, as the latter even allows passengers to slide their seats backward and forwards. Meanwhile, the roof-mounted air vents also ensure that the middle row passengers are kept cool during peak summer months. The seats of the Ertiga are also decently padded and supportive, too, while the large windows let in plenty of natural light and make the interior feel airy and spacious. In terms of ride comfort, the Ertiga's suspension has been specifically tuned to tackle bad roads, which lets it glide over bad patches with relative ease. However, when there's a full complement of passengers and luggage, one would have to slow down while traversing a less-than-ideal stretch of pavement. Otherwise, the Ertiga's softer suspension setup will result in it bottoming out, which is far from comfortable.
In conclusion, the Proton Ertiga achieves what it set out to do, and in doing so, justifies its low price tag.
You might also be interested in
Latest Proton Ertiga Cars Videos on Zigwheels