Mazda CX-3 vs Honda HR-V vs Renault Captur : The Era of Compact SUV Commences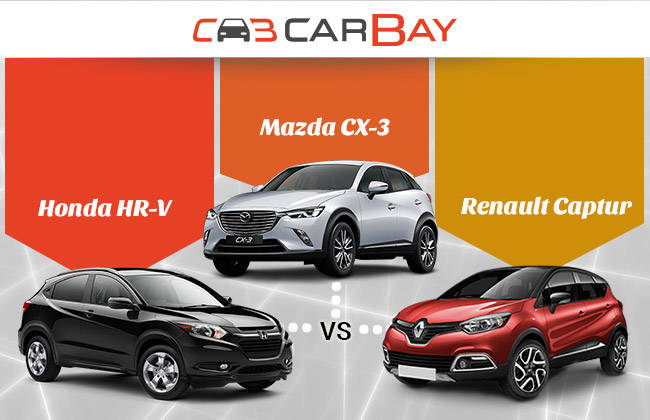 Kuala Lumpur: Mazda CX-3 vs Honda HR-V vs Renault Captur, Yes you read it right! A new battleground is blooming in the Malaysian Compact SUV market with the upcoming launch of Mazda CX-3 and Renault Captur. A few years ago bigger SUVs were considered as a taboo to buy with their affluent price tags, lower pragmatism and higher running costs. But, as soon as the car manufacturers laid the genesis of B-segment smaller SUVs, it became an instant hit in the Malaysian auto markets. Recent market trends suggest that the Malaysian automotive market is facing a huge inclination of prospective buyers towards the high seated car than a low-riding sedan. While people earlier used to prefer value for money in hatchbacks, now it can be seen that the entire market space is focusing on the next big segment from hatchbacks. This general SUV-fication of the market is on a high rise and CX-3, HR-V and Captur come out to be the best options for the potential buyers.
Read Also: Mazda CX-3 vs Honda HR-V
All of the three have their own appeal towards the buyers, and that's where the confusion arises. Thus, to resolve your complexity, we have compiled a comparative platform casting out a general idea about Engine Specifications, Exteriors, Interiors and Safety to make this task easy for our readers.
Summary:
Choosing the quintessential model among the Mazda CX-3, Honda HR-V and Renault Captur might prove to be a painstaking decision because all are offering impeccable performance with leading features. However, the above comparative specs and features clearly differentiate the proximity among these.
Read Also: Mazda CX-3 vs Renault Captur
Mazda CX-3 proves to be a fun ride with edgy styling inspired by Mazda's "KODO" soul of motion design. The CX-3 features the Mazda's latest Skyactiv technology which is coupled with a sport-tuned suspension and creative weight-saving measures to maintain Mazda's unique brand of driving pleasure. Apart from which the cabin of the car is diligently designed to meet family needs featuring high-quality materials and next-gen driving aids. Mazda CX-3 will be starting from RM130K making it the top of the line while the HRV and Captur settle at a lower price, this might prove little difficult for the Mazda lovers to shed RM30K more than HR-V.
Read Also: Mazda CX-3: 5 reasons to buy
Honda HR-V on the other side is a whole new magnitude of performance and looks which are diligently crafted in the high seated machine. The car boasts a roomy cabin with class-leading features and lucratively designed interior elements. HR-V is based on the footsteps of its elder sibling CR-V with the similarly convincing wide looks making it a true head-turner. Apart from which the Honda HRV hold the cheapest price tag starting from RM95K adding more practicality to own this vehicle.
Renault Captur, on the other hand, looks a bit shady among these, it's winning edge is its sufficiently powered engine with excellent fuel economy which can surpass all the other factors. Captur sits on the platform of its equally styled sibling Renault Clio. With its high seating position and influential design, it proffers the sense of a 4x4 SUV in a two-wheel-drive car. Still the RM118K price tag does not justify the features provided in it as compared to Honda HR-V.
Read Also: New Renault Captur to challenge the massive existence of Ford Ecosport in Malaysian markets
Verdict:
The perfect choice among the three solely depends on the kind of utility you are looking for. All the chariots are packed with unique features while differing a lot in their price range.
If you are looking for a mile muncher machine, that could sit happily at high speeds through long distances, while not making a dent in your pocket, Renault Captur can be an option for you, owing to its rev-happy engine boasting a best in class 18.5 Km/l mileage. Although if you are looking for something that is meant for a family with a bigger boot space, then nothing can beat Honda HR-V in the class with its 437 litres of boot space, measurably better than the other two.
But now comes the catch, if you are looking to flaunt around the city with a powerful machine driven by flamboyant design and loaded with next generation features then Mazda CX-3 is the car for you, although you will have to shed a whopping sum of RM130K to own it.
Now if you think, Why invest extra thirty thousand for the next-gen tag and a few additional features than straight away get a Honda HR-V for yourself, although to give a thought an extra RM30K might satisfy all your needs in a car with the Mazda CX-3. The car is soon to launch officially in Malaysia on December 8
Stay tuned with us, for continuous updates and comment below your valuable suggestions!
Read our earlier comparisons:
Renault Captur vs Honda HR-V vs Ford Ecosport
Hyundai Tucson vs Kia Sportage 2WD
Ford Everest vs Toyota Fortuner
You might also be interested in