Sales brochure of Iriz R5 rally car released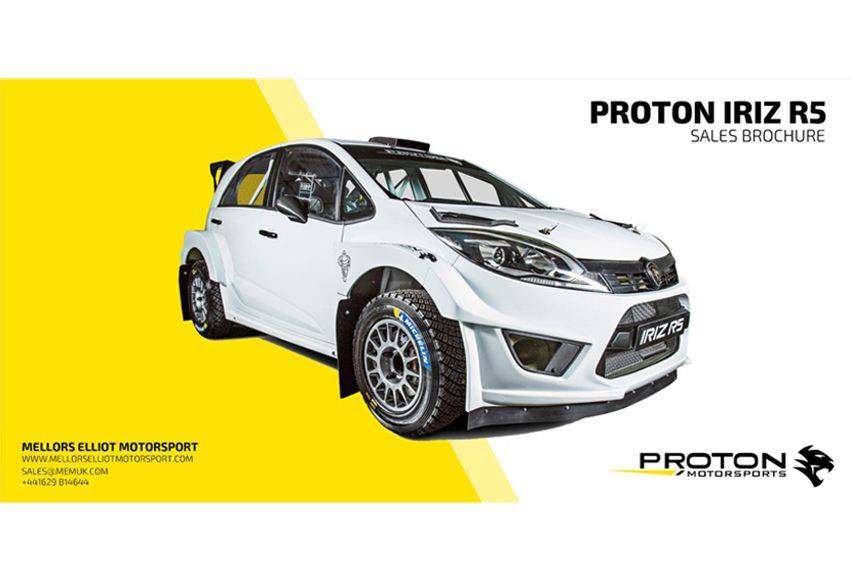 KUALA LUMPUR: Mellors Elliot Motorsport (MEM) is a UK based company with a proven track record in Motorsport preparation. Further, MEM is responsible for the design and manufacturing of the FIA Homologated Proton Iriz R5. And now, it has released the Iriz R5 sales brochure along with its pricing details. MEM has introduced the homologated Iriz R5 in both left- and right-hand drive layout, making it compatible for competitions all over the world.
The Iriz R5 rally car price starts from GBP 140,000 (approx. RM 776,000). The price includes an optional pack, tarmac kit, gravel kit, estimated running cost, and parts list. Powering this rally car is a 4B11T engine sourced from Mitsubishi Lancer Evolution. The powerplant capacity has been reduced from 2.0 to 1.6-litre to comply with the R5 rally regulations, limiting performance figures to 350 hp and 450 Nm. This mill is paired to a 5-speed Xtrac sequential manual gearbox.
The entry-level car is offered in 'ready to race' tarmac trim, which includes -
18x8 aluminium wheels
Rallies eligible tarmac competition tyres
355 mm front brake discs and 300 mm rear brake discs
Front and rear brake master cylinder
Brake calipers including spacers
Driver and co-driver competition seats
Front and rear underbody protection
Six-point HANS-compatible harnesses
FIA-approved fire extinguisher system
Competition steering wheel
Note, the tarmac kit can also be purchased separately and would cost buyers GBP 23,500 (RM 130,222).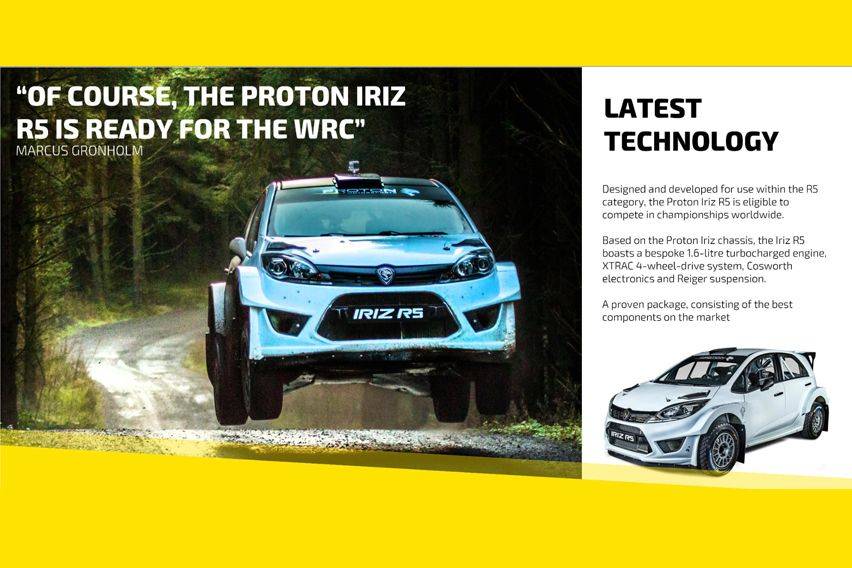 As mentioned, there's also an option pack on offer that separately would cost GBP 45,000 (RM 249,362). Following elements are part of this pack -
355 mm rear brake discs including bells
Cosworth co-driver display
Data key and download cable
Central guard for exhaust and prop shaft protection
Data handling kit including a laptop with Cosworth software
Front side stone guards
Differential guard
Full United Kingdom registration
Winmax tarmac brake pads
Michelin competition tyres
FIA fuel sample kit
Driver's footrest
Digital Stilo intercom
Wheel brace
Spare wheel kit including wheel, tyre, wheel tray, and strap
Navigator's footrest including buttons
Roof vent kit
Map light including loom
Helmet net
Making the Proton Iriz R5 compatible for gravel rally competitions, MEM has a gravel kit on offer that includes-
Gravel-spec damper assembly
Outer TCA pin
Steering arm
15x7-inch Speedline gravel wheels
Pin nut and retainer
Gravel brake discs
Outer gravel track rod mount
Gravel-spec compound Winmax brake pads
Rear-wheel stone guard
Disc retaining rings
Travel track rod spacers
Gravel brake caliper mounting pins
Note, this gravel kit will cost a customer around GBP 19,900 (RM 110,397).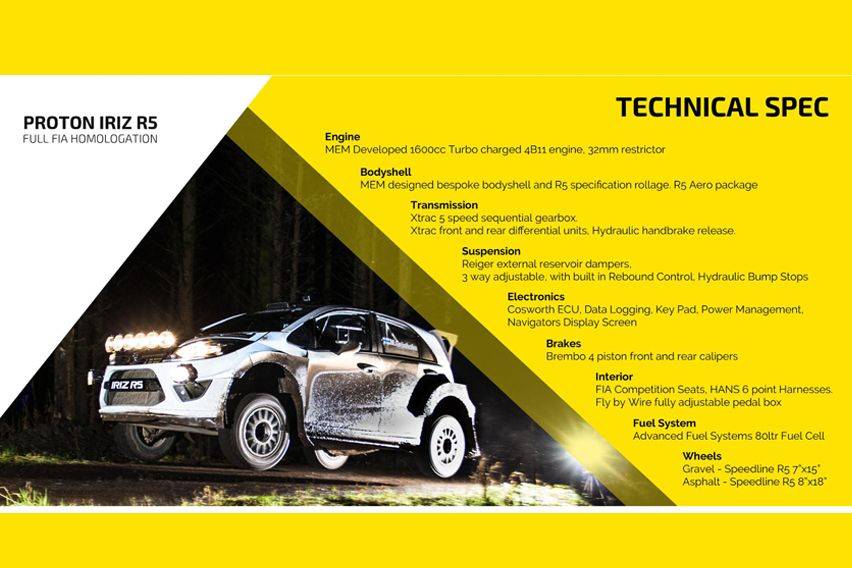 The rally car specialist is also offering some additional components, here's a list -
Heated windscreen
Left- and right-hand-side corner light assemblies
Brake balance adjuster
Lighting kit including left- and right-hand side corner light assemblies, six-light bonnet lamp assembly
Anti-glare dashboard coating
Carbon-fibre mirrors
Handbrake release and steering
Mudflap kit
Hydraulic connector kits for brakes, clutch, gearbox, rear differential
More detail about the Proton Iriz R5 can be sourced from MEM's official Facebook page and website, https://www.mellorselliotmotorsport.com/proton-iriz-r5/.
Also Read: Check out 2019 Proton Iriz R5 in WRC 8 video game
You might also be interested in
Latest Proton Iriz Cars Videos on Zigwheels