2020 Perodua Bezza vs 2019 Proton Saga - The better pick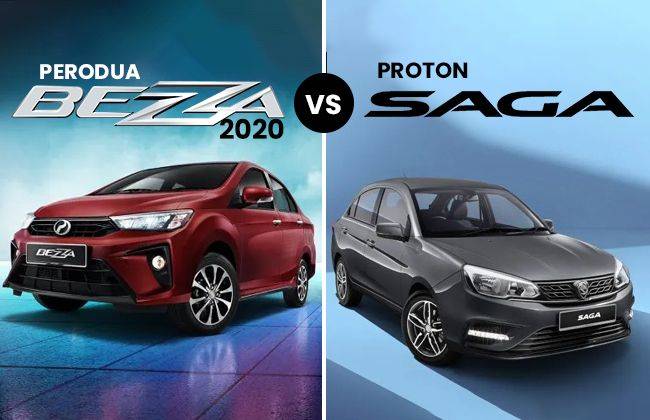 Even though the volume segment is filled with entry-level, low priced models, this segment churns ample monthly sales and is the first preference for the first time buyers. Choices are wide, though there are some favorites in the segment including the Bezza from the home-grown auto manufacturer, Perodua, which has recently received a mid-life facelift.
The 2020 Perodua Bezza is slightly longer, taller and heavier than the outgoing version. Subtle exterior tweaks further enhance it visually, while interior styling and feature list have been carried over from the previous version. Some additions have been made to the safety kit, however, the new Perodua Bezza specs sheet sees no change and carries over same engine and transmission set-up.
While Bezza is a relatively new model, with its initial launch in 2016, Proton Saga has been around since 1985. The three decades of Saga have been exceptional in terms of sales. It has evolved over the years and it still goes strong despite rising competition in the segment. An updated version was recently released in Malaysia, though it remains unchanged proportionally, changes are evident on the outside, and subtle updates can't be ignored on the inside. Both the models are closely priced, and two of the most common choices in this price bracket. If you are considering buying any of these, this spec-based comparison will help you make a wise decision.
2020 Perodua Bezza vs Proton Saga: Dimensions
In comparison, the Proton Saga is longer by 261 mm and measures 69 mm wider, while Bezza is slightly taller. The Saga sits on 10 mm longer wheelbase, and seems to be more spacious given it is longer and wider than Bezza. Speaking of cargo volume, the newly launched Perodua Bezza has 106 litres more storage space, though it weighs slightly heavier.
2020 Perodua Bezza vs Proton Saga: Exterior
Speaking of overall aesthetics, the 2020 Perodua Bezza appears sportier, and more refreshing. The Saga, on the other hand, looks mundane, carrying suave elements that seem to make it a bit dull.
The 2019 Proton Saga makes do with halogen headlamps, missing out on the LED units
The LED headlamps are restricted to the top-spec Saga variant
While the side mirrors can be adjusted electrically, the power-folding function is missing
Chrome door handles, front fog lamps, dual-tone side skirts and LED rear combination lamps, all come with the new Bezza
Even though looks are subjective, if we have to choose one model on the basis of the exterior appeal, it would be the new Perodua Bezza. Besides, it carries more styling elements as compared to Proton Saga.
2020 Perodua Bezza vs Proton Saga: Interior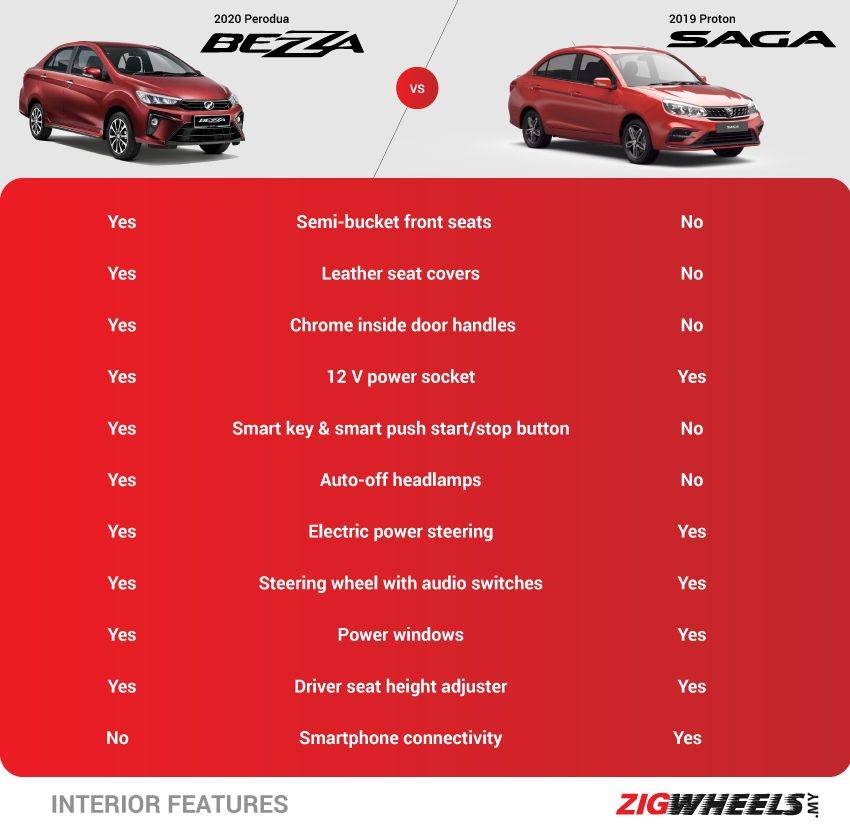 While the 2020 Perodua Bezza is thickly packed in comparison, the Proton Saga slightly spacious with comfortable space for three occupants at the back. The headroom, shoulder space and knee room is also decent in the Saga. Overall, it has a comfortable cabin, though some prominent amenities are missing.
-The top-spec Proton Saga variant benefits from a 7-inch touchscreen unit
-It also packs an LCD multi-information display
-Seats at the back can be folded to create more space for storing luggage
-The new Perodua Bezza features door armrests, and smart storage points such as seatback pockets, multipurpose compartment and under luggage compartment
2020 Perodua Bezza vs Proton Saga: Engine & specifications
The new Bezza is available with two DOHC VVT-i engines, while the 1.0-litre unit is paired to an auto box, the higher displacing engine comes with a conventional 5-speed manual transmission. The Proton Saga line-up sources power from a single 1.3-litre unit with both, a manual and an automatic transmission.
Out of the two models, the 1.3L engine in the Saga and the 1.3L engine in the new Bezza make almost same power, though Saga takes lead with a negligible difference
Same goes with the torque, here Bezza outnumbers Saga
Both the models come with a choice of a four-speed automatic, and a five-speed manual transmission
2020 Perodua Bezza vs Proton Saga: Safety
Safety is paramount, and both Perodua and Proton have packed their respective vehicles with prominent safety tech. While Perodua Bezza comes with a few extra safety features, the Proton Saga also boasts some amenities that have been left out in the Bezza.
The Proton Saga benefits from a few additional features including hill hold assist, front & rear parking sensors, etc.
Perodua's recently launched Bezza facelift also receives Advanced Safety Assist (ASA) 2.0, available with the latest breed of Perodua models
The ASA 2.0 safety system consists of advanced safety features such as Pre-Collision Braking up to 80 km/h, Pre-Collision Warning up to 100 km/h, Front Departure Alert, Pedestrian Detection up to 50 km/h and Pedal Misoperation Control
Wireless door lock and alarm, and central lock button on the instrument panel are found in the Bezza
2020 Perodua Bezza vs Proton Saga: Price
While the new Bezza line-up comprises of four variants, the Proton Saga is available in three grades only. In comparison, the Proton Saga has a lower starting price of RM 32,800 which makes it a cheaper option. The difference in cost of top-spec variants of both the models is quite wide with the Bezza priced around RM 10,000 higher at 49,980. Even though the Bezza base variant costs slightly more than the Saga, it misses out on dual front airbags, brake assists which are standard on Saga. Also, the audio system on the Proton is more contemporary. It is compatible with smartphone connectivity, which gives it an edge over Bezza. While Bezza is more feature-packed when it comes to comfort.
2020 Perodua Bezza vs Proton Saga: Conclusion
Customers preferring a more premium cabin with leather-wrapped seat covers can choose the top-spec Bezza. It also benefits from the smart entry with smart key & push start/stop button. On the visual front, Bezza is a clear winner, hence if you prefer a sporty model, with some contemporary touches, Bezza will suit you best. On the other hand, if you do not mind the mundane, boxy design of Saga, it offers almost the same features, save for a few, especially the ASA 2.0.
Also Read: Perodua Bezza - 2019 vs. 2020
Sell your car at the best price
Verified and genuine buyers
Free listing
List your car
Perodua Bezza vs Proton Saga Comparison
Perodua Car Models
Perodua Aruz

Perodua Myvi

Perodua Bezza

Perodua Alza

Perodua Ativa

Perodua Axia
Perodua Cars


Select your city to start search
Or select from popular cities